Bad Lieutenant: Port of Call New Orleans
(2009)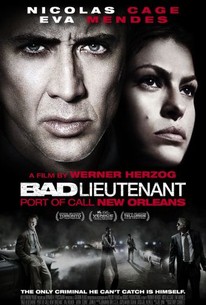 TOMATOMETER
AUDIENCE SCORE
Critic Consensus: Befitting its unorthodox origins, this Bad Lieutenant benefits from Werner Herzog's typically fearless direction and a delightfully unhinged Nicolas Cage in the title role.
Bad Lieutenant: Port of Call New Orleans Photos
Movie Info
Abel Ferrara's cult crime drama Bad Lieutenant is given a sister film with this Werner Herzog-helmed production that takes its inspiration from the original, but focuses on new characters and plotlines. Nicolas Cage steps into Harvey Keitel's mold of a corrupt and drug-addled police officer, with the scummy setting moving from New York City to New Orleans. Eva Mendes, Val Kilmer, and Xzibit co-star in the Nu Image/Millennium Films picture. ~ Jeremy Wheeler, Rovi
News & Interviews for Bad Lieutenant: Port of Call New Orleans
Critic Reviews for Bad Lieutenant: Port of Call New Orleans
Audience Reviews for Bad Lieutenant: Port of Call New Orleans
Honestly, I wasn't sure what to expect, and I think Herzog would like that if he heard it. I've seen several of his previous movies, so I had an idea of sorts of maybe what to expect, but ultimately, I had no idea how things would pan out, or if I would like it or not. Like his other previous films, this is wild, offbeat, and totally in it's own little strange world. It's part cop drama, part addiction story, and all character study. A washed up, sleazy, and corrupt drug addicted cop tackles the criminal underworld of New Orleans as well as his own demons, and, since Werner Herzog is in the director's chair, you know it will definitely have its idiosyncratic moments. It is maybe a tad too long and the pacing is a little too slow, but those are my only real complaints. This is Cage's movie through and through, and, for people who think he's washed up now, they need to go and see this movie. He is a master at playing creepy, weird, frazzled individuals who are too far gone. The rest of the cast is nice, but some of their performances are better than others. Xzibit turns in a surprisingly good performance. Under the right director, I think he could have a nice film career in his future. This is a trippy, enjoyable and baffling (in a good way) movie that, while showing a more human side to the type of characters that Cage is playing, is so much more than just sleaze, and excess, but still shakes the audience up with it's unconventional approach to a story that in normal circumstances, is pretty standard and straightforward stuff.
Chris Weber
Super Reviewer
½
Wow, what a wild ride. Credit Werner Herzog for this one; able to unleash Nick Cage in a way we haven't seen since Leaving Las Vegas, Werner presents a surreal tale of a cop who not only falls from grace, but embraces the fall. There's plenty of imagery to go with the story, and several times I wondered if the whole thing wasn't just a dream within a dream, but by the end you can see that Cage's "Bad Lieutenant" is living a double life - and that he prefers it that way, falling not just under the influence of drugs, but embracing the whole drug world - getting off on his power as a cop to coerce people into supplying his needs. He rides the Tiger - defying the odds and somehow, even though stoned out of his mind, manages either by luck or destiny, to bring down not one, but two drug rings. He rides this wave and survives because, as he stated several times during the film - he simply doesn't care one way or the other. If you do indeed truly embrace the void, Werner seems to be telling us, then nothing is impossible or unlikely. Cage is so delightfully over the top, yet somehow you believe in all the histrionics and quirky mannerisms, whether this is because Werner presents the film partly through a drug filled haze where you aren't sure if what you're watching is real or part of Cage's imagination. The beauty of the film is that it doesn't supply an easy answer. It lays out the action and all its little twists and is so strong in its portrayal that both the happy ending and subsequent "real" one both seem sides of a surreal coin. To say that Werner embraces a Lynchian sensibility in this film wouldn't be far wrong, only the narrative is far more cohesive and alluring than some of Lynch's later work. The surreal passages, from squirming river snakes to singing iguanas all set a tone and have a purpose beyond mere shock value, and are more accessible than Lynch's brand of surrealism. This film isn't perfect, however I have to applaud Werner for taking what could have been another typical cop film and infusing it with a totally new direction. If you are expecting a morality tale here, then you will be disappointed, for there isn't one - and that's a beautiful thing; just as it's beautiful to watch a gifted director walk the tightrope between absurd and relevance.
paul sandberg
Super Reviewer
Ive tried watching this movie twice now and both times ive failed to finsh it! I found it to just be a really hard movie to get into!
Film Crazy
Super Reviewer
Bad Lieutenant: Port of Call New Orleans Quotes
| | |
| --- | --- |
| Terence McDonagh: | Shoot him again |
| Terence McDonagh: | Shoot him again. |
| Midget: | What for? |
| Terence McDonagh: | His soul is still dancing |
| Terence McDonagh: | His soul is still dancing. |
| | |
| --- | --- |
| Terence McDonagh: | Fucking iguanas |