Bad Milo!
(2013)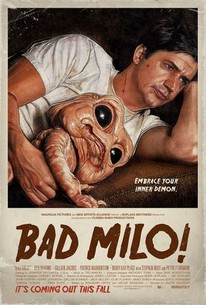 TOMATOMETER
AUDIENCE SCORE
Critic Consensus: Bad Milo! sets some deliriously low expectations with its gross premise -- and then manages to match most of them in sick, entertaining style.
Movie Info
Duncan's (Ken Marino) life is a real pain in the ass. Tormented by a manipulative, crooked boss (Patrick Warburton), a nagging mother (Mary Kay Place) with a boyfriend 1/3 her age, a deadbeat new age dad (Stephen Root), and a sweet, yet pressuring, wife (Gillian Jacobs), his mounting stress starts to trigger an insufferable gastrointestinal reaction. Out of ideas and at the end of his rope, Duncan seeks the help of a hypnotherapist (Peter Stormare), who helps him discover the root of his unusual stomach pain: a pintsized demon living in his intestine that, triggered by excessive anxiety, forces its way out and slaughters the people who have angered him. Out of fear that his intestinal gremlin may target its wrath on the wrong person, Duncan attempts to befriend it, naming it Milo and indulging it to keep its seemingly insatiable appetite at bay. (c) Magnolia
News & Interviews for Bad Milo!
Critic Reviews for Bad Milo!
Audience Reviews for Bad Milo!
With Jacob Vaughan's first real directorial debut, he shows his immense skills for the exploitation genre, as well as low budget horror. These are the kind of indie horror movies I love seeing, full of gore and toilet humor. The premise is awesome, featuring a stress monster growing in the digestive system of a low level employee at a corrupt firm. The eponymous Milo enacts vengeance on those that cause Duncan (Marino) unwanted stress, which means anyone and everyone that comes into contact with the harried husband. Marino is always very funny in his roles, big or small, and he really shines as this repressed simpleton. The gore is great, very graphic and very interestingly done, and the side notes of revenge mimic the plot of David Cronenberg's classic horror film "The Brood," which I absolutely love. The entire cast is great, the premise is kooky while staying violent and gross, and the core message that those who run often can't deal with reality, was actually insightful. I highly recommend this gem for all these reasons, as well as for the cuteness of the lead.
Spencer S.
Super Reviewer
An accountant finds that his searing intestinal pains come from a monster that lives in his lower intestine, who emerges from his bowels to kill whatever is causing him undue stress in his life. A lot more thoughtful and psychologically probing than the usual movie about butt-monsters, which may explain why it's failed to resonate with midnight movie crowds---this is a case where the movie might benefit from a less tasteful approach.
½
Decent horror comedy, and one that had plenty of potential of being so much more, Bad Milo is a film that has an interesting premise, but at times falls short. I enjoyed the film, but I also felt that the end result could have been much better than what we got. The story concerns a guy who has a demon like creature living in his intestines. The sheer ridiculousness of that idea alone should have made this a memorable horror comedy. However, in the end, it's a decent affair, and one that definitely should have been better. Considering some of the cast members involved, you'd exp[ct a great movie, but like I said it just tries to be off the wall, way too many times, and it loses sight of what it tries to do with its idea. In the end, Bad Milo is all over the place, and tries too hard at being original. I think it's a shame because the idea was interesting and very humorous, but it just felt a bit strained in the end. Don't go into this expecting a great horror comedy, go into this one with mild results and might like it, but you'll also want a far better movie out of it as well. I enjoyed it, but I think that the filmmakers should have tightened the script up a bit to make it a worthwhile addition to the genre. As it is, it's worth seeing if you enjoy low budget pictures, but to others, they may want to skip this one because of its premise. Overall, a decent, watchable affair, but one that could have been better. Bad Milo! Is just one of those movies that has such an interesting idea, but doesn't quite know how to really make it into a great film.
Bad Milo! Quotes
There are no approved quotes yet for this movie.