Bad News Bears
(2005)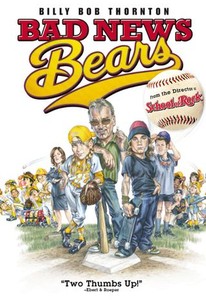 TOMATOMETER
AUDIENCE SCORE
Critic Consensus: This too-faithful remake aims low for laughs, turning off the easily offendable; despite another lovably irascible contribution by Thornton, it lacks the ensemble strength and originality of the 1976 version.
Movie Info
A washed-up ballplayer is put in charge of a pack of kids scarcely more mature than himself in this remake of the 1976 comedy hit. Morris Buttermaker (Billy Bob Thornton) is a former major league baseball player whose career and life has hit the skids thanks to his overwhelming fondness for booze and women. Needing a break, his lawyer (Marcia Gay Harden) arranges for Buttermaker to take on coaching responsibilities for the Bears, a Little League baseball team comprised of a handful of hapless losers. As Buttermaker tries to groom his young charges into a winning team, he also gives them a glimpse of his hard-living lifestyle while they gear up to take on perennial rivals the Yankees and their arrogant Coach Bullock (Greg Kinnear. The 2005 version of The Bad News Bears was written by Glenn Ficarra and John Requa, who previously scripted another Billy Bob Thornton vehicle, Bad Santa. ~ Mark Deming, Rovi
News & Interviews for Bad News Bears
Critic Reviews for Bad News Bears
Audience Reviews for Bad News Bears
½
This remake is better than I expected, and, even though it's Linklater, I really wasn't expecting much. Morris Buttermaker is a washed-up boozy exterminator who once had a career as a minor league baseball player (with a very, very short stint in the majors) who agrees to coach a lousy team of misfits, if only because he needs the paycheck. Yeah, it's the typical underdog sort of scenario, but with a twist. It's also pretty faithful to the original, even recreating some scenes almost note for note. It does enough to stand out on its own with some of the changes it makes, and that's good. Essentially it's a filtered version of Bad Santa to a degree, but even then it's surprisingly watchable and enjoyable. Thornton delivers the sort of performance you'd expect given the character, and I liked him, even though he's not supposed to be likable. The team is a motley crew of typical misfits, but they deliver decent performances that rise above the ranks, making characters that stand out from the norm of this sort of scenario. Of the kids, my favorites include the late Sammi Kane Kraft as ace pitcher (and token girl) Amanda, Timmy Deters as the pint-sized foul mouth Tanner, and Troy Gentile as the wise-cracking wheelchair bound Matt Hooper. As for the other adults, Greg Kinnear is okay as the rival coach who personifies the parent that overvalues winning, and Marcia Gay Harden is giving the thankless role of the ACLU-minded hardworking mom who thinks all kids should be given a chance at everything, just because. The film has some of the expected sports movie cliches, but ultimately avoids being a paint-by-numbers affair. I also liked that, while it is sort of aimed at a younger audience, it doesn't pull punches, and easily earns the PG-13 rating, with some of these kids being hilariously edgy right along with Thornton. One of my favorite examples of this is when he offers the kids non-alcoholic beer as a celebration, and Tanner comments, "Non-alcoholic beer? What's the damn point?" That's pretty funny. Better than it has any right to be, this is a pretty decent film. Yeah, it has the smell of familiarity all over it, but Linklater is a smart filmmaker, and while he clearly has reverence for the original, he smartly does enough to set his remake apart and make it relatable to contemporary audiences. Give it a go.
Chris Weber
Super Reviewer
½
I enjoyed this remake of Bad News Bears, although not as memorable as the original, this film still has plenty of enjoyable crazy moments. The cast do a pretty good job and the film is pretty funny I very much enjoyed this film and it was lots of fun to watch. Billy Bob Thornton delivers a good comedic performance, and he is perfect for the part. The film is a must see for people who want something enjoyable, and Bad News Bears delivers memorable comedic moments. Sure the film has its downside, but it's far better than the remake to The Longest Yard. The film for the most part succeeds at making you laugh, and the jokes are very funny. This is a better remake than what most people would care to admit, and like I stated before, it's better than The Longest Yard remake, which was a total comedic failure. Of all the comedies starring Billy Bob Thorn, this film and Bad Santa are his best. This is in my opinion an underrated comedy, and it does deserve some credit as a film that has lots going for it. The film is much better than most comedies and remakes for that matter, and that says something. If you enjoy the sport, and want to watch something funny, then Bad News Bears is the perfect film to watch. The film is not as memorable as other baseball comedies such as Major League, The Sandlot or the original Bad News Bears, but it's still a worthy viewing nonetheless.
½
It was a good try and Thorton did a really great job as coach, but in the end its not as good as the original.
Jim Careter
Super Reviewer
Bad News Bears Quotes
There are no approved quotes yet for this movie.