Bad Santa
(2003)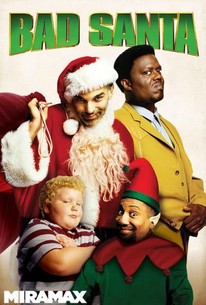 TOMATOMETER
AUDIENCE SCORE
Critic Consensus: A gloriously rude and gleefully offensive black comedy, Bad Santa isn't for everyone, but grinches will find it uproariously funny.
Movie Info
The Christmas season just got a lot less joyous in this very dark comedy. Willie T. Stokes (Billy Bob Thornton) is a con man and a thief who teams up with his friend Marcus (Tony Cox), a midget, for a very special scam each year during the holiday season. Willie gets a job as Santa Claus at a shopping mall, his pal tags along as an elf, and they use their employee status to crack mall security and rob stores blind just before Christmas. However, there's one flaw to this plan -- Willie is a bitter, foul-mouthed and perpetually grouchy alcoholic who doesn't care for kids, and it's all he can do to keep himself from getting fired while on the job. The mall's manager (John Ritter, in his last film appearance) is certain something's wrong with the Santa he's hired, so he asks the mall's chief of security (Bernie Mac) to do some research on Willie. Meanwhile, one of the kids Willie is forced to talk to becomes a regular customer; overweight, awkward, and the frequent target of bullies, the boy manages to arouse something like sympathy from Willie, who tries to give him some advice and develops something vaguely resembling Christmas sprit along the way. Bad Santa was directed by Terry Zwigoff, who enjoyed previous success with Crumb and Ghost World. ~ Mark Deming, Rovi
News & Interviews for Bad Santa
Critic Reviews for Bad Santa
Audience Reviews for Bad Santa
When an R-Rated comedy is released nowadays, it usually only goes one of two ways. Either the rude and crude humour overpower everything, being an excess of gags that run dry very fast, or it will be a cleverly written screenplay that balances the crude with a well-mannered story. When Bad Santa was released back in 2003, it personified the latter half of that statement. Although this is the absolute last Christmas film I would ever want to show kids during the holidays, it does rank among the most memorable holiday films to a much more mature audience. It does not hold back when it comes to cussing or sexual innuendo, but its core story has a very nice payoff that warrant a viewing each year around the Christmas season. Here is why I believe Bad Santa will always hold up. While it is odd to call a film directed at a specific audience a classic, it is worthy of that title for a few reasons. Released in a time when 3D animation was on the rise, films like The Polar Express or even the live-action Elf are what many families cared more about. They were the films celebrating the holiday spirit the way everyone normally thinks of them. Strip away the technology, the endless presents, the pretty colours, and what do you get? A drunken Santa Claus that swears every five seconds, robs shopping malls with his elf, and uses a young boys home for shelter. Now, normally I would not be attracted to films like this during a season where people try to keep themselves happy, but the overall message is what truly makes this film memorable. For this reason, Bad Santa will end up being a timeless film like Christmas Vacation or It's a Wonderful Life. That being said, It's a Wonderful Life may just be my favourite Christmas film, so I am not trying to compare this to the classics, but it is well on its way for its own special reasons. To be honest, this is a film that took some time to grow on me. Upon my first viewing many years ago, I enjoyed the film, but never found it to be quite as funny as I do now. The fact that it was so crude was also slightly startling to me, having me miss the big message as a whole. Rewatching the film over the years, I have come to think of Bad Santa as a great film. Sure it is extremely simple, but the fact that an elderly drunk playing Santa Claus can come around and begin to care for a kid that annoyed him from the beginning, just goes to show what having people in your life who care for you can really do. Bad Santa is absolutely hilarious, but that is not why I choose to watch it. It is filled with so much heart that the comedy almost feels like the cherry on top. The title says it all, and if you are not in for this type of film, I would not suspect it will win you over. This humour is directed at a very specific demographic and if you do not enjoy balls-to-the-wall comedy that doesn't hold anything back, Bad Santa is not for you. There are moments where I feel it goes too far for being a Christmas movie, but it is easily redeemed moments later. I truly can't believe this film has already been in release for over 13 years, but it does hold up better than most Christmas films from its time. Films like Four Christmases, Jingle All the Way, or Christmas with the Kranks are still viewed by many families on cable and whatnot, but they are very mediocre films at best. Although this film is not for everyone, it definitely stands among the top of its genre in its decade. With loveable characters like Thurman Merman, cleverly written jokes about the Christmas season, a story that takes a while to develop, but in turn makes for a moving conclusion, Bad Santa holds up as one of the better films to watch around Christmas, even if it does dampen the mood quite a bit. If you are looking for a film to genuinely make you smile during the holidays and not laugh due to a film full of grinches, then stay far away from this picture. That being said, even though not everything works throughout this film, it sets up its punchlines perfectly and does everything it wants to before the credits roll. In the end, Bad Santa is a great time if you know what you are getting yourself into.
Yes, it's awful, but have to laugh. Definitely not a sentimental Xmas movie.
Nicki Marie
Super Reviewer
While there are many quotable lines, and an edgy dark humor that usually gets waylaid with Christmas comedies, a classic this film is not. For all its strangeness and obtuse darkness it's not always all that funny. Our lead character, played by a drunk Billy Bob Thornton, is mean-spirited, heartless, and inappropriate, but the only times this is played for comedic effect is when he is paired with the kid (Kelly). The kid is odd, not all that forthcoming, and true to himself, which is a great balance with Thornton's unappealing sadsack Santa Claus. When they're onscreen the laughs roll in, but otherwise this film is very depressing and meager with its side characters. Marcus (Cox) plays well off Thornton but as his own character he is very one dimensional. Mac makes an interesting villain, but he doesn't get enough screen time. If the story was a little more fleshed out and the characters were a little more interesting this would have been an easy comedy to love.
Spencer S.
Super Reviewer
Bad Santa Quotes
| | |
| --- | --- |
| Marcus: | (To Willie) "You're an emotional fucking cripple. Your soul is dog shit. Every single fucking thing about you is ugly." |
| Marcus: | You're an emotional fucking cripple. Your soul is dog shit. Every single fucking thing about you is ugly. |
| | |
| --- | --- |
| Willie T. Stokes: | (to a kid) What do you want? |
| Willie T. Stokes: | What do you want? |
| Pokemon Child: | Pokemon! |
| Willie T. Stokes: | Done. |
| | |
| --- | --- |
| Willie T. Stokes: | "I beat the shit out of some kids today. But it was for a purpose. It made me feel good about myself. It was like I did something constructive with my life or something. I don't know. Like I accomplished something." |