Bad Teacher
(2011)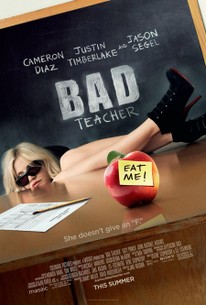 TOMATOMETER
AUDIENCE SCORE
Critic Consensus: In spite of a promising concept and a charmingly brazen performance from Cameron Diaz, Bad Teacher is never as funny as it should be.
Movie Info
Some teachers just don't give an F. For example, there's Elizabeth (Cameron Diaz). She's foul-mouthed, ruthless, and inappropriate. She drinks, she gets high, and she can't wait to marry her meal ticket and get out of her bogus day job. When she's dumped by her fiancé, she sets her plan in motion to win over a rich, handsome substitute (Justin Timberlake) - competing for his affections with an overly energetic colleague, Amy (Lucy Punch). When Elizabeth also finds herself fighting off the advances of a sarcastic, irreverent gym teacher (Jason Segel), the consequences of her wild and outrageous schemes give her students, her coworkers, and even herself an education like no other. -- (C) Sony Pictures
News & Interviews for Bad Teacher
Critic Reviews for Bad Teacher
Audience Reviews for Bad Teacher
Bad Teacher is almost exactly what it promised to be. While it's not the counterpart to Bad Santa or Bad Lieutenant, it definitely has that vibe at times. I was sort've surprised that it wasn't all that vulgar, but that became a strength at times. The ways they found to make Cameron Diaz's character mean and uncaring were creative to say the least. Kid friendly humor from Lucy Punch's Ms. Squirrel was so much more funny than it would've been with profanity. It delivers on having completely nutso characters doing terrible things and scarring children mentally. The main attraction here is obviously Cameron Diaz and her rockin body. She's incredibly talented when it comes to comedy and this has got to be one of my favorite performances from her period. She just seemed to know this character so well and knows exactly how to make situations funnier. What's really cool about Bad Teacher is that it has an ability to actually find meaning and purpose within the comedy. It actually has a lot to say about education, relationships and people in general. While it might not have you dying in your seat, I think it's a genuinely well made movie that will definitely be easy to watch again and still enjoy just as much.
Conner Rainwater
Super Reviewer
To my unfortunate surprise, I found this film excruciating to watch, and terribly unfunny. With the exception of Justin Timberlake, I thought the acting was good and the story believable, but there was something missing here - mainly, the characters seemed really inconsistently written, to the point where, from scene to scene, I wasn't always sure I was still watching the same movie. I understand that we weren't supposed to like Cameron Diaz's, but midway through, the story seems to decide it does want us to root for her after all and changes in tone. Too bad. If this movie had really gone for it, it could've found Bad Santa territory.
Daniel Perry
Super Reviewer
½
They couldn't fine someone else to play the part of the Bad Teacher, I mean Camernon Diaz is way past her prime as an attractive high school teacher, more of a want to be attractive, but looking more like a washed up New Jersey Soccer Mom. This is not a kids movie by any means. Pretty trashy, but I rest assured that parents that let there kids watch the simsons will find nothing wrong with this film. 1 1/2 stars
Bruce Bruce
Super Reviewer
Bad Teacher Quotes
| | |
| --- | --- |
| Sasha Abernathy: | No, I wanna run for President. |
| Elizabeth Halsey: | Keep saying shit like that you're gonna get punched |
| Elizabeth Halsey: | Keep saying shit like that you're gonna get punched. |
| | |
| --- | --- |
| Amy Squirrel: | Shut the front door! |
| | |
| --- | --- |
| Elizabeth: | You keep saying shit like that, and you're gonna get punched. |
| | |
| --- | --- |
| Lynn Davies: | Do you want to come see Period 5 play? It's the teacher band. |
| Elizabeth: | I'd rather get shot in the face. |