Bad Times at the El Royale
(2018)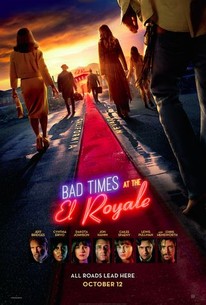 TOMATOMETER
AUDIENCE SCORE
Critic Consensus: Smart, stylish, and packed with solid performances, Bad Times at the El Royale delivers pure popcorn fun with the salty tang of social subtext.
Bad Times at the El Royale Videos
Bad Times at the El Royale Photos
Movie Info
Seven strangers, each with a secret to bury, meet at Lake Tahoe's El Royale, a rundown hotel with a dark past. Over the course of one fateful night, everyone will have a last shot at redemption... before everything goes to hell. Jeff Bridges, Chris Hemsworth, Jon Hamm, Dakota Johnson and Cynthia Erivo lead an all-star cast in BAD TIMES AT THE EL ROYALE.
Critic Reviews for Bad Times at the El Royale
Audience Reviews for Bad Times at the El Royale
A nice night out at the movies as a familiar collection of oddball characters meet together at the titled (cue dramatic musical introduction) inn of ill-repute. Those characters? Lovers of noir have met them all before, the sneaky character twists and turns like a night out with an abusive ex, and with the same sweaty results. Its all in fun, and in that light, worthy of a familiar smile of appreciation. In the background, and the foreground, the music you and your ex loved while together in copious replay. Sweet dreams. And happy walk-of-shame in the morning!
Kevin M. Williams
Super Reviewer
It is no disservice when I say that Bad Times at the El Royale joins the ranks of the finest of Tarantino imitators. It's packed with twists and turns that keep an audience glued to the screen and continually re-evaluating the characters that we thought we knew. Because of that dynamic the movie invites the audience into becoming more involved, dissecting the information available and waiting for the next clue or plot revelation. It turns watching the film into a game and makes the experience that much more active and thrilling. In the summer of 1969, the El Royale hotel is in for one hell of a night. The old fashioned hotel sits on the border between Nevada and California, allowing its dwindling customer base the opportunity to choose which state they would like to stay in. A group of strangers cozy up for the night including a priest (Jeff Bridges), a chatty vacuum salesman (Jon Hamm), a hopeful lounge singer (Cynthia Erivo), a skittish bellhop (Lewis Pullman), and a mysterious woman (Dakota Johnson) who happens to have a hostage in her trunk. As the night progresses and the characters uncover one another's secrets, sometimes with deadly results, menacing cult leader Billy Lee (Chris Hemsworth) comes swaggering to the El Royale to reclaim by force what he feels is rightfully his. There are Act One twists and reveals in El Royale that would have been the Act Threes of other movies. Writer/director Drew Goddard (Cabin in the Woods, The Martian) has packed his movie full of sinister intrigue as he establishes the hotel, the main characters, and an immediate impression of each in the first 15 minutes. From there, the movie is divided into chapter titles (another Tarantino motif) where we follow different room inhabitants who get 20-minute-vignette spotlights. Once in private, the characters shed their false faces and begin to reveal who they really are, or who we think they might really be, and the movie starts to resemble Tarantino's own hidden identity parlor game, 2015's Hateful Eight. The vignettes begin to overlap, ending on cliffhangers and then circling back with a new character as our focal point, re-watching prior scenes but from a different perspective. Goddard's script is wonderfully clever, layering in questions and answers and a constant desire to upend audience expectations. Even though some segments will repeat, Goddard doesn't waste time on redundancy. A character will be seen prying loose floorboards searching for something desirable, and we never have to relive the before or after of this moment from that character's perspective because we've been imparted the necessary info and can put the pieces together with the next jump. I appreciated Goddard's faith in the intelligence of his audience. The pleasure of El Royale is watching it deftly unfold as a fun, funny, startling, appealing mystery. The characters must also be worthy of our attention, and Goddard does fine work teasing out his colorful cast of criminals and lost souls and deepening most. Everyone has something to hide at the El Royale, and finding out his or her true intentions and motivations is part of the film's fun. I won't spoil any of the big surprises or which characters are really putting on a show. Despite all the many plot machinations intertwined, Goddard still finds time for his film to breathe and let the characters talk, opening themselves to one another, sometimes with the assistance of dramatic irony. Jeff Bridges and Cynthia Erivo play the best characters and deliver the best performances. Both of them are haunted by pasts they don't feel like sharing, both are under some element of disguise to embark on finding their happy ending, and both form a sort of bond throughout the film as kindred spirits, even if they can't fully trust one another. Bridges has the most complicated back-story but it actually links with a very real and emotional condition: memory loss. His character is (legitimately) going through early dementia and he's losing full control of his sense of self, occasionally blanking and forgetting who he even is and how he got where he did. For a character pretending to be someone else, there's a cruel irony to this malady. The seven main characters aren't all on the same level (some are more plot devices than people) but Goddard knows this, making sure his 142-minute movie spends the most time with the best of them. The actors given the best characters are also the ones that deliver the best performances, if you can imagine that. Bridges (Hell or High Water) brings a strong sense of pathos to his memory-addled priest trying to assess his life and his choices. He seems genuine in every moment, which is a feat considering his character has his share of secrets like anyone else. Erivo is a Broadway star making her film debut here, and she steals the show with her bruised sense of optimism. She's the heart of the movie and a proven survivor, especially from a rigged system that protects predatory men. She brings a quiet power to her character as well as a believable vulnerability that makes you care. Hemsworth (Avengers: Infinity War) is all shaggy, scraggly charm as a cult leader who gets off pitting his followers, and captives, against one another. Really he likes to listen to himself speak, and Hemsworth is having a grand ole time with the part. Another actor exhibiting clear joy is Hamm (Baby Driver) who is, if you'll pardon the pun, hamming it up with great gusto. He does a far majority of the talking for the first twenty minutes. He's practically bouncing all over the place as an unchecked extrovert, but when alone, Hamm demonstrates an additional layer to his outlandish character. Another strong impression is from Pullman (Strangers: Prey at Night) as the lone employee eager to find absolution for his part in the El Royale's history of sin as well as his own personal demons. The weakest of the ensemble ends up being Johnson (Fifty Shades Freed) who gets lost in her femme fatale archetype and can't seem to find her way out again. This is only Goddard's second directing feature and his best directing aspect is that he knows when to linger on the written page. There are several segments that dwell in a certain emotion, elevated by Goddard's tracking shots to continue the predicated unease. There's one early moment where the bowels of the El Royale are revealed as hidden viewing areas to secretly record the guests doing their seemingly private illicit good times. The lead character of this vignette walks along the corridor, studying other characters and slowly realizing the implications of what he or she is finding. The scene is given a beautiful and eerie soundtrack thanks to Darlene practicing her singing, belting out "This Old Heart of Mine" like her life depended upon it, the tune taking on a sinister edge as it echoes through the dark hallway along with the tick-tock of the metronome. There's another terrific singing suspense segment in this very same location, except with a different character spying on Darlene as she and another character work in conjunction to coordinate their movements, timing striking sounds in the room to her claps. Goddard has an adequate eye for visuals but he benefits from the gorgeously conceived and constructed El Royale setting, allowing the quirks of the rundown hotel to serve as another character to his ensemble. I enjoyed little touches, like only the Nevada side having a liquor license and the bright red line that runs down the middle of everything. And yet there are some lingering doubts that halt me from a full-throated endorsement of El Royale, and I've been trying to articulate them better in the days since I watched the film. It frankly doesn't fully come together by the end in a way that feels suitably climactic. Once Billy Lee enters the third act, the movie stabilizes and we spend time with the remaining characters assembled together to be terrorized by the cult leader. After seeing everyone else's story in smaller vignettes with some slippery non-linear perspectives, we've finally come to our big confrontation and summit with everyone. Except it doesn't feel as big as the movies needs it to be. Characters will be dispatched swiftly, and instead of it feeling shocking it feels abrupt and contrived, devaluing the character arcs that had been shuffling forward to that point. The deaths feel too ho-hum, and the final confrontation and melee too chaotic and random. The sacrifices feel wasted and sloppy rather than the payoff from some long established setup. It's here where Goddard cannot hide his narrative trickery anymore and the machinations are exposed. I couldn't help but feel that the final act was slowly losing the momentum and excitement that had been built carefully over the course of two hours. Billy Lee isn't quite the force that his whispered presence has been made out to be, no fault to Hemsworth, who impresses me more and more with every new performance. It's like by the end of his movie Goddard has realized that certain characters were inevitably just more interesting than others and he saves room for them to get a climax and brushes off the rest. Thematically I don't quite know if it comes together with any sort of final statement about the 1960s, the dichotomy of good and evil, or anything else. It's a final act that left me a little disappointed and realizing the end wasn't nearly as fun as the journey. Bad Times at the El Royale is a movie jam-packed with twists, plot turns, and colorful characters played by great actors who are clearly enjoying themselves, given the room to roam and stretch their muscles as exaggerated and dangerous criminal cohorts. Goddard's film is impeccably structured up until its final act where it feels like the answers and confrontations cannot match the mysteries and setup that had been laid before. If you're a fan of the top level of Tarantino imitators, like Things to Do In Denver When You're Dead or Lucky Number Slevin, or enjoy unpacking a good mystery, then check into the El Royale, a hotel where maybe the cockroaches have the best chance at survival. Nate's Grade: B+
Nate Zoebl
Super Reviewer
Much like Tarantino's The Hateful Eight, this is a clever allegory of America centered on a group of peculiar characters who represent each a facet of American society (not only of the 1960s but also today), wrapped up in a stylish and sexy film-noir package with great performances.
Carlos Magalhães
Super Reviewer
Bad Times at the El Royale Quotes
There are no approved quotes yet for this movie.