Bad Turn Worse
(2014)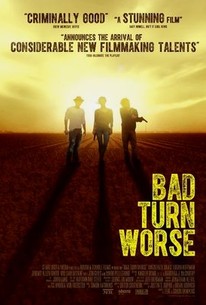 TOMATOMETER
AUDIENCE SCORE
Critic Consensus: It wears its influences on its sleeve, but Bad Turn Worse still boasts more than enough pulpy thrills to justify its place at the table.
Movie Info
With only a few weeks left until his two best friends leave for college, Billy Joe robs his cotton farmer boss, Giff, in order to pay for one last blow out weekend in Corpus Christi, Texas. Upon returning, the teens are confronted by the unfortunate and brutal consequences of stealing from his boss. Now Billy Joe, Sue and Bobby must embark on a dangerous journey that will test their trust and friendship and take them across the line from carefree adolescence into the harsh reality of adulthood.
News & Interviews for Bad Turn Worse
Critic Reviews for Bad Turn Worse
Audience Reviews for Bad Turn Worse
They say that the friends you make in school will be your friends for life. The film Bad Turn Worse explores these bonds and shows just how tight they can be. B.J. (Logan Huffman) is your typical Texas High School senior, who is more concerned with meeting the right people, and getting a good job, then he is about going to college, which present a problem in regards to his best friend and girlfriend, who are both headed towards university. B.J. wants to leave his friends on a high note, and decides in order to accomplish this, he needs to "borrow" some money from his shady boss. What B.J. doesn't know is just how connected his boss really is, and once it's discovered that he took the money, his life, and the lives of his two closest friends end up being in jeopardy. Logan Huffman stars and fails to follow up on the success he had in his debut film, Underdogs. In that film, Huffman looked like he would be the next big thing in Hollywood, but playing a dim-witted character in a somewhat anti-climatic story didn't do him any favors. He is paired with Jeremy Allan White, better known as Lip, in the hit series Shameless. I was hoping to see him open up and show some range with this role, but the truth is he was just playing the same character, a highly intelligent young adult who makes poor choices. As far as the story goes, it was pretty interesting, but there are too many breaks in the main story, which distract you from the big picture. There is a lot of discussion and strains on the groups friendship, which pop up at the absolute worse times and pretty much stop the film dead in it's tracks. Bad Turn Worse really did feature a pretty good story, with a ton of up and coming young Hollywood talent. It's very appealing in many ways, but also disappointing in others.
Todd Smith
Super Reviewer
Bad Turn Worse Quotes
There are no approved quotes yet for this movie.