The Last Circus
(2011)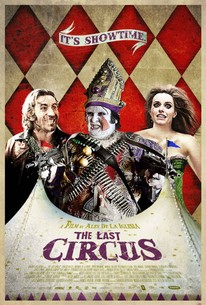 Movie Info
1937, Spain is in the midst of the brutal Spanish Civil War. A "Happy" circus clown is interrupted mid-performance and forcibly recruited by a militia. Still in his costume, he is handed a machete and led into battle against National soldiers, where he single handedly massacres an entire platoon. Fast forward to 1973, the tail end of the Franco regime. Javier, the son of the clown, dreams of following in his father's career footsteps, but has seen too much tragedy in his life - he's simply not funny and is only equipped to play the role of the Sad Clown. He finds work in a circus where he befriends an outlandish cast of characters, but as the Sad Clown he must take the abuse of the brutish Happy Clown Sergio, who humiliates Javier daily in the name of entertainment. -- (C) Official Site
News & Interviews for The Last Circus
Critic Reviews for The Last Circus
Audience Reviews for The Last Circus
½
During the Spanish Civil War, the Republican Army is so desperate for soldiers that they resort to drafting circus clowns, but not so desperate that they include bearded ladies. One such clown(Santiago Segura) so impresses the loyalists with his killing with a machete that he earns their respect and is spared from the firing squad. Sadly, he dies in a jail break engineered by his son Javier(Jorge Clemente). Decades later, Javier(Carlos Areces) gets to fulfill his father's wish when he is hired as a sad clown by a circus where he works with Sergio(Antonio de la Torre) who regularly beats his wife Natalia(Carolina Bang), a trapeze artist. And apparently Javier is the only person who notices... "The Last Circus" is yet another movie that starts promisingly enough(even the opening credits are cool) before going completely haywire. The problem here is that the movie is content at just throwing ideas at a wall to see what sticks.(I thought the clown car analogy would have been too obvious.) The Spanish Civil War is an important event that is brought up, forgotten and then returned to in a Dickensian delusion of grandeur. A horror movie set in a circus would not have been such a bad idea but the movie lacks the courage of its convictions to fully go grand guignol, instead going for something more like an origin story or a debate as to who is really the monster.
½
*** out of **** "The Last Circus" left me feeling shocked, bewildered, alienated, disgusted, repulsed, humored, and perhaps even speechless. In all honesty, I don't know if a few big words can truly describe this mind-boggling hit of cinematic acid; but I'll try as hard as I can to write a sufficient review for a film that is, by all necessary means, almost too different to critique through the standards of film criticism. There's a chance that for movies like this one; new rules are in need of inventing. But wait. Surely this isn't the first time someone's gone out of their way to make something so outrageous and strange. Indeed, it isn't. There's a special place in cinema reserved for the visionary button pushers; the pretentious filmmakers who aren't afraid to express their artistic vision and allow it to run completely wild - free of filters, censors, and among other things, the great big sponge known as Hollywood. "The Last Circus" doesn't quite earn its place among these movies - and it's director, Alex de la Iglesia, doesn't quite belong there with the other daring filmmakers of classic cinema - but it has the right to be weird, and weird it is. The first thing that catches your eye when it comes to the film's marketing campaign is the picture of an evil-looking clown armed with what appears to be machine guns. And that's just a taste of what de la Iglesia has in store for us not too far down the road. He sets his film in 1937, when the Spanish Civil War is still taking place, and his focus is set primarily on one very big source of entertainment in those harsh times; circus performers. And in this case, clowns are most important of all. The protagonist - if there really is one by the end of this twisty, warped story - is Javier (Carlos Areces). He was traumatized by the imprisonment of his father, a circus clown, when he was of a young age. It was then that Javier accepted the fact that his childhood had been taken away from him by the war itself; and it was time to move on. He grows up and finds a job in the family business, as a sad clown. Due to his lack of a real childhood - filled to the top with rainbows and butterflies and fatherly affection - he is deemed incapable of making children laugh. He doesn't mind his position in the circus, that is until he meets his new boss. The antagonist is Sergio (Antonio de la Torre). As I said, he is Javier's employer. And he's also an abusive tyrant of the physical and verbal variety, a heavy drinker, and when forced into action, quite the determined sadist. Here's a boss so utterly repulsive that he might not even be permitted entry into the casting calls for "Horrible Bosses". Sergio is married to the gorgeous Natalia (Carolina Bang); whom Javier secretly lusts after. Natalia notices this and takes a liking to the sad clown; soon, they are going places together by night, and their romantic bonds gains strength. Sergio, meanwhile, notices this and becomes increasingly pissed. He takes his anger out on Natalia most of the time; and if she isn't around, anyone else who is gets a beating. Javier can't stand his employer's misogyny and abuse; causing him to commit an irreversible act. I shall not say what that act is; although let's just say it doesn't end well, and it isn't particularly pretty either. But then again, in a movie like this, what is? De la Iglesia has great, radiant visual style; his film is a beautiful festival of colors drenched in ugly, although sometimes discreetly funny violence. Think of the film like a bad car crash; you can't look away - oh, no. The performances, the direction, and the dark sense of humor are all far too desirable for that; and by the time we're sucked in, it's too late to turn back. While "The Last Circus" isn't what I'd call a fun film - nor is it one that falls under my definition of "entertaining" half of the time - it's got style, and it's got grace. So in the words of Tom Jones, I guess that makes it a winner. Some will love it; some will hate it. There's no way that I would ever consider this film to be a great one; but there's an essence about it that I find oddly beautiful. I acknowledge the fact that Iglesia sees himself as a predecessor to surrealistic mastermind Alejandro Jodorowsky; and I acknowledge that as a filmmaker, he lacks the said man's empathy for his characters and passion for his philosophy. But he's got something different all-together; something that separates "The Last Circus" from every other film I saw last year. I admire when a filmmaker can treat me to something new and exciting; even if it is on an emotional scale, a mixed bag. So why shouldn't I greet "The Last Circus" with the praise that it rightfully deserves. Come my friends; join me. This is not one you're going to want to miss.
Ryan Marshall
Super Reviewer
Fun and grotesque in the right way, with a strong vibe of classic horror cinema. The problem is that the second half switches gears with such an agressive force that it forgets completely about the characters, and just turns them into vicious psychopats for no good reason other than having a series of over-the-top sequences. I enjoyed this, but the lack of a proper transition damages the impact of the story.
Tsubaki Sanjuro
Super Reviewer
The Last Circus Quotes
| | |
| --- | --- |
| Natalia: | Nadie quiere ser gracioso.(No one wants to be funny) Tienes que creer me.(You have to believe me) I amo payaso triste...!!!(I love you sad clown) |
| Natalia: | Nadie quiere ser gracious. [no one wants to be funny] Tienes que creer me. [you have to believe me] I amo payaso triste...[I love you sad clown] |
| | |
| --- | --- |
| Javier: | I'm a sad clown. I'm not funny. |