Bam Bam and Celeste
(2007)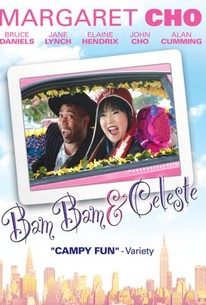 AUDIENCE SCORE
Critic Consensus: No consensus yet.
Bam Bam and Celeste Photos
Movie Info
Taunted by their classmates since grade school and never quite able to escape the culturally suffocating confines of their homogenized Midwestern hometown, a pair of small-town misfits make a break for the big city in this comedy from director Lorene Machado. Celeste (Margaret Cho) is an overweight, Korean, former goth-punk whose best pal since childhood has been queeny African-American Bam Bam (Bruce Daniels). Now in their early thirties and curious to explore the outside world, Celeste and Bam Bam catch wind of a reality television makeover show that's in search of a challenge. Convinced that they are the perfect candidates and encouraged by the show's booking assistant (Alan Cumming) to make the trip, the pair pack up the car and set their sights on New York City. Upon arriving in the Big Apple for their television debut, Celeste and Bam Bam find their moment in the spotlight threatened by a former high school nemesis turned posh salon owner assigned to perform makeover duties on the peculiar pair.
Critic Reviews for Bam Bam and Celeste
All Critics (3) | Top Critics (1) | Fresh (1) | Rotten (2)
Comedian Margaret Cho calls her first non-concert feature as writer-star "a fag and fag-hag 'Thelma and Louise,'" a description that's funnier than anything in Bam Bam and Celeste.
October 14, 2005
Light and inoffensive but lacks the depth and revolutionary bite of Cho's best stand-up material.
you'll have to be a lifetime member of the loyal Cho army to enjoy this low-rent road picture.
Audience Reviews for Bam Bam and Celeste
½
Let me start by saying that I usually find Margaret Cho pretty funny, most of the time. So when I discovered this potential gem, with a cast filled with actors that I really enjoy (most of the time)...I thought "how could I go wrong?". While the potential is here for a "screwball / roadtrip / buddy comedy" HOMERUN...this sadly only ends up being about a "double play". What starts out as a pretty strong and painfully funny look at "the misfit kids of High School circa 1987", rapidly weakens to a mildly ammusing string of not so subtle (or funny) "present day" social satire and over the top stereotypes. There are a couple of "high points" (Jane Lynch being one) in the film, but for me the biggest was Margaret Cho in the double role as "Mommy". Always a favorite for me in her stand-up comedy, Margaret gets a chance here to really complete her impression of "Mommy". She is a real scene stealer and the source of most of the chuckles that I found in this film.
This is a great movie! Margaret Cho is phenomenal, and truly stands out! After seeing this, it is quite obvious that she should be in more movies (more than she already has been so far). Bruce Daniels and Alan Cumming give fantastic performances, and its also great to see a special appearance by John Cho. This movie, a bit on the eccentric--but who doesn't love eccentric every now and then--is about friendship, self discovery, and a bit of love. Great comedic parts that had me laughing, as well as great musical tracks! A great homage to the 80's.
Bam Bam and Celeste Quotes
There are no approved quotes yet for this movie.