Bambi II
(2006)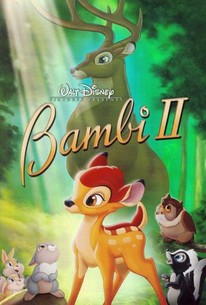 Movie Info
Bambi knows his mother is gone. His stoic father, the Great Prince of the Forest, has little choice but to raise Bambi on his own. He has no experience caring for a fawn, but as wise friend Owl suggests, who better to raise the young prince than the Great Prince himself? Bambi is sent off to play with his friends Thumper and Flower, who are going to the yearly ritual of the Groundhog emerging from its hole. Thumper is trying to avoid his adorable but nosy little sisters, and Flower is hoping for more winter so he can get back to hibernating. Bambi also reconnects with the sweet doe Faline, who makes Bambi blush and stumble. But Ronno, a bully with budding antlers, targets the young prince as his enemy. Bambi learns valuable life lessons and the ways of the forest as a new season begins. But there are many adventures and obstacles that both Bambi and the Great Prince must overcome together as they realize they have much to teach each other. Together, they can look forward to a bright future.
News & Interviews for Bambi II
Critic Reviews for Bambi II
Audience Reviews for Bambi II
I like Bambi 2 better than the first one.
erika bruhns
Super Reviewer
Weak! They screwed the first one over!
½
I own nearly all the old Disney animated classic movies on VHS and have been watching them all my life. I don't know why, but the original Bambi was never one of my favorites of them, but rather one of my lesser favorites. I much prefer this sequel. Purists may scoff that Bambi is grown and has a family of his own at the end of the original and that this one should've picked up there, but I like that it picked up right after his mom died. It definitely works as an animated drama that I can relate to a lot. Many of us struggle all our lives with trying to impress our parents and make them proud, as Bambi does with his father, and what a joy to see them finally bonding. Excellent sequel that surpasses the original.
Jason Owens
Super Reviewer