Bananas
(1971)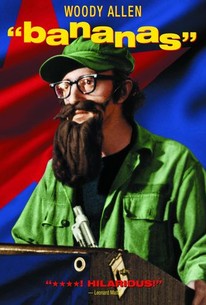 Movie Info
The sharply satirical, uneven and often bizarre Bananas comes from Woody Allen's zany period and tells the story of New York nebbish Fielding Mellish (Allen) who ends up El Presidente of San Marcos, a tiny war-torn Central American banana republic after he falls in love with a radical political activist (Louise Lasser) who is more interested in making revolution than love.
News & Interviews for Bananas
Critic Reviews for Bananas
Audience Reviews for Bananas
½
At one point, Woody Allen's character says to Louise Lasser's: "I fail to see the humor of this," which is exactly how I felt watching this terribly unfunny comedy that is more like random scenes and sketches sloppily put together - some of them so irritating they are nearly unbearable.
Carlos Magalhães
Super Reviewer
½
Before Woody Allen shifted into serious character dramedies with his revolutionary film "Annie Hall" he made satires and screwball comedies like this one. Over the edge hilarious and completely absurd, "Bananas" is one of the best political satires of the seventies. Playing off of the South American revolutions of the time, and their cyclical nature, Allen stars as a nebbish version of himself who tries to be politically relevant just to get laid. Screwball in its entirety, the film speaks on the complications of foreign policy while also being absolutely ridiculous and funny. If you love the likes of Mel Brooks or the Zucker Brothers, this is going to be a film you will fall for easily.
Spencer S.
Super Reviewer
woody's second feature as a director is very clever, very funny. i laughed a lot, and as usual the dialogue was witty and entertaining. i felt that the film lost a lot of steam by the end, which says a lot considering the movie is already very short, but it is entertaining and really uses its ideas well, especially the opening assassination sequence.
Bananas Quotes
| | |
| --- | --- |
| Fielding Mellish: | I was always, ah, I was always very shy when it came to girls. I, I remember when I was a little boy, I once stole a pornographic book that was printed in braille and I used to rub the dirty parts. |
| | |
| --- | --- |
| Semple: | I'm sorry to disappoint you but I've known Fielding Mellish for years and he's a warm, wonderful human being. |
| Fielding Mellish: | Uh, would the clerk read that statement back, please? |
| Prosecutor: | I've known Fielding Mellish for years and he's a rotten, conniving, dishonest little rat. |
| Fielding Mellish: | Okay, I just wanted to make sure you were getting it. |
| | |
| --- | --- |
| Fielding Mellish: | Can you believe that? She says I'm not leader enough for her. Who was she looking for... Hitler? |
| | |
| --- | --- |
| Esposito: | You have a chance to die for freedom. |
| Fielding Mellish: | Yes, well, freedom is wonderful. On the other hand, if you're dead, it's a tremendous drawback to your sex life. |