Band of Outsiders (Bande à part)
(1964)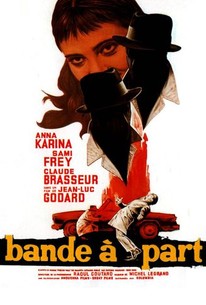 Band of Outsiders (Bande à part) Photos
Movie Info
In the dreary Parisian suburb of Joinville, Brasseur and Frey ("Belmondo's suburban cousins" - Godard) take turns romancing English language student Karina, then light up when she mentions the big pile of cash stashed at her aunt's villa. A piece of cake burglary, but of course things go memorably awry. A jeu d'ésprit - extracted from one of the blackest of Série Noire novels, Fools' Gold by Dolores Hitchens - with echt Godardian set pieces including the trio line-dancing "Le Madison" (later "homaged" by Tarantino in Pulp Fiction)and then "doing" the Louvre in record time. Along with Band, Karina's collaborations with boyfriend/husband/ex-husband Godard (they married in 1961 and divorced in 1965) include Le Petit Soldat, Vivre Sa Vie, Alphaville, Pierrot Le Fou, Made In U.S.A., and A Woman is a Woman, which won her a Best Actress award at the Berlin Film Festival. "Anna & Jean-Luc," a one-week festival of their films together, will be shown as a sidebar to the Band of Outsiders run (see below for schedule). In addition to her films with Godard, Karina has appeared in Visconti's The Stranger, Rivette's The Nun, George Cukor's Justine, Tony Richardson's Laughter in the Dark, Fassbinder's Chinese Roulette, and many other films. Born in Denmark, Anna arrived in Paris at age 17, unable to speak a word of French. Sitting at the café Les Deux Magots, she was spotted by a woman from an advertising agency, which led to a successful career as a fashion model. A picture of Karina in a bubble bath in an ad for Palmolive soap was seen by young film critic Godard, then casting his first feature, Breathless. Offered a part that would include a nude scene, Karina turned him down, but then accepted a role in his second feature, Le Petit Soldat.
Critic Reviews for Band of Outsiders (Bande à part)
Audience Reviews for Band of Outsiders (Bande à part)
Two young would be criminals obsessed with old Hollywood B-movies compete for the affections of the same woman, and also try to get her to help them commit a robbery...in her own home in this breezy adaptation of the novel Fool's Gold. It's Godard once again giving the world a hip, cool, and jazzy tale involving crime and disaffected youths, yet doing so in a very fun and stylish way that tweaks conventions and expectations, and gets all kinds of praise and proves very influential to many a viewer, namely Tarantino. I dug this film, and found it to be quite enjoyable, and while it is more accessible than Breathless, it's also kinda underwhelming and struck me as somewhat overrated. There's some fun and memorable sequences, including the world record-breaking run through the Louvre, the "minute of silence", and the infectiously fun dance scene, but the film didn't really strike me as gut punchingly lasting. There's perhaps a bit more substance than maybe I picked up on, but maybe I was just too preoccupied with all the style, aesthetics, and the beauty of Anna Karina to notice. Do I recommend it? Yeah. I don't think it's a masterpiece, but I am glad I saw it, and think it's a passable way to spend some time, especially if you want to be more familiar with one of the most revered directors in all of cinema.
Chris Weber
Super Reviewer
½
Band Of Outsiders is an influential French New Wave classic by Jean-Luc Godard that features a relaxed and youthful band of three scheming an inside robbery. Endearing. Appealing.
Jan Marc Macababayao
Super Reviewer
"A few clues for latecomers: Several weeks ago... A pile of money... An English class... A house by the river... A romantic young girl..." Two crooks with a fondness for old Hollywood B-movies convince a languages student to help them commit a robbery.
REVIEW
Very much in the same vein as his break-out hit Breathless, Band of Outsiders works just the way it is supposed to, an homage to the pulp crime novels and B- movies of America. Here, however, it is all set to the gorgeous and timeless scenery of Paris along with three very bright and engaging people. Sami Frey and Claude Brasseur play Franz and Arthur, two young men who seem to be going nowhere in life except the occasional English class and cruising around in their speedy black, American car. They meet up with a girl they both admire, Odile, played wonderfully by the beautiful Anna Karina, and soon are setting up a plot to steal money from her aunt's boarding house. This is about all the plot there is and about all the plot there needs to be. Since this is based on a dime-store novel by Dolores Hitchens, Godard knew that the climax would be the actual crime. However, what to fill the rest of the time with? Perhaps a fantastic dance number right in the middle of a Parisian restaurant, or the famous scene of the three characters running through the great halls of the Louvre. There are also some very interesting dialog scenes, such as when Arthur and Odile discuss why they like each other, or Arthur and Franz exchanging morbid stories from the newspaper. Like most of Godard's other work, many people will be turned off by his eccentric, offbeat cinematic version of the human condition. Indeed, although he was heavily inspired by American crime tales such as Orson Welles' Touch of Evil, there is a definite French twist here which is all the more entertaining for us. Still, this is certainly one of Godard's best work; completely original and thought-provoking as well as shot in beautiful, stark black-and-white cinematography that captures the rough and rugged era of Paris. Keep your mind open to the possibilities and you may just learn something... or nothing.
Lorenzo von Matterhorn
Super Reviewer
Band of Outsiders (Bande à part) Quotes
There are no approved quotes yet for this movie.