Band of the Hand
(1986)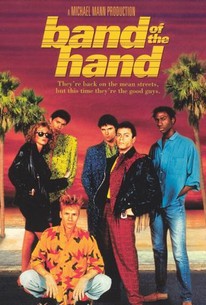 Movie Info
Former Starsky and Hutch star Paul Michael Glaser warmed the director's chair for Band of the Hand. The film zeroes in on five juvenile delinquents who are plucked from their various detention facilities and unceremoniously dumped in the wilds of the Everglades. The boys begin to panic until hardcase Vietnam veteran Stephen Lang arrives. Lang explains that they've been paroled in his custody, and that it is his task to teach them how to work as a team in order to survive. The logic of this plan is to whip the boys into an elite vigilante unit, then sic them on the various drug dealers of America. The film features early performances by Lauren Holly and Larry Fishburne and Bob Dylan can be heard singing the title song.
Critic Reviews for Band of the Hand
Audience Reviews for Band of the Hand
½
The film that made me forever think of James Remar as a bad guy. Miami Vice era cheese.
Band of the Hand Quotes
| | |
| --- | --- |
| Joe: | Each guys life depends on all, on each man doing his job, you cover your zone, you know the man on you right has got your right covered, you know the man on your left will kill everything on your left! You're all part of each other, fingers on a hand, A FIRE TEAM! |