Bandidas
(2006)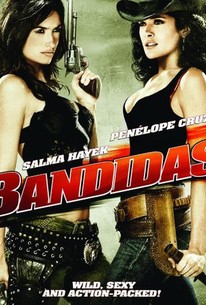 Movie Info
Latina heartthrobs Salma Hayek and Penélope Cruz co-headline the rousing indie Western Bandidas. The brainchild of producer/screenwriter Luc Besson (La Femme Nikita, The Big Blue), Bandidas marks one of only a handful of films in its genre (along with Bad Girls, Cattle Annie and Little Britches, and Johnny Guitar) to use women as its principals, and distinguishes itself further by adding hefty doses of comic relief to the Western formula. Hayek and Cruz play Sara and Maria, respectively -- two women whose fathers (one a banker, the other a peasant farmer) are each wiped out by a nasty, vile, gun-wielding swindler named Tyler Jackson (Sling Blade co-star and country music singer Dwight Yoakam). Jackson cuts a bloody swath across the Southwest as he reduces one bank after another to an impoverished trash heap. In revenge, these women (who sit at opposite ends of the personality spectrum) vow to beat Tyler at his own game by hitting and robbing each of the banks before their father's killer can reach them. Steve Zahn co-stars as the "criminal science" officer who aids the girls in their mission; Espen Sandberg and Joachim Roenning co-direct.
News & Interviews for Bandidas
Critic Reviews for Bandidas
Audience Reviews for Bandidas
Light comic fun as two women from different sides of the track team up in Old Mexico to rob banks. Dwight Yoakum is fun as the moustache twirling bad guy, Steve Zahn the ever underappreciated good guy, but the highly watchable leads, Penelope Cruz and Salma Hayek are the buddy team and heart of this Besson produced light entertainment buggy ride.
Kevin M. Williams
Super Reviewer
Bandidas is unrepentant fun. Salma Hayek and Penelope Cruz begin as opposites in a familiar western theme of revenge against the greedy out to murder, steal, and swindle their land. Initially distrustful of each other, fate soon unites the two feminine heroines against the unscrupulous Tyler Jackson (Dwight Yoakam), ultimately prevailing in this swashbuckling action comedy. This film is multiculturalism at its funniest; it's a joint French/Mexican/American production starring the Spanish Cruz, the Mexican Hayek, filmed by two Norwegian directors, shot in Mexico. The movie is over the top all the way. It features bank robbery basic training, pratfalls galore, banjos, ice skates, and even "Matrix-y" type slow-mo action. This is the funniest western since Shanghai Noon, but it didn't have catfights. Veteran comedic comrade Steve Zahn is hilarious as the crime scene expert who joins forces with the bad girl robin hoods. Watching his "seduction "scene with Cruz and Hayek, I concluded that he must be the luckiest man in the history of motion pictures! These leading ladies complement each other like more traditional action duos. You root for them, knowing they'll triumph in the end. They're a dynamic pair alright, and I'm not just talking about their epic chests! In the end, they ride off into the sunset, their legend only to increase.
Clintus Maximus
Super Reviewer
A somewhat disappointing western adventure, pretty much written for real life friends Cruz and Hayek, who are at least really nice on the eyes. The script, on the other hand, doesn't have much to offer you didn't see a lot funnier in "Maverick", for example. Especially the beginning, when the farm chick and spoiled brat have nothing to do but bitch fight to Mariachi music, is pretty weak. There are a few amusing scenes throughout the second half, especially the bed sequence with Steve Zahn, but then again a lot of logic flaws and pointless stuff. The slow motion part of the showdown is kinda cool but doesn't want to fit into this kind of film at all. Movie fans may at least spot a few references to Sergio Leone, if they consider those stealing or an homage is up to them. But overall, no one who skips this film is missing much.
Bandidas Quotes
There are no approved quotes yet for this movie.