Bandits
(2001)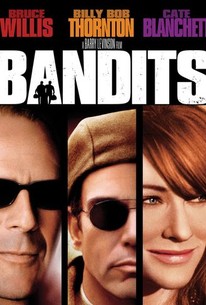 Movie Info
Director Barry Levinson follows up the low-budget An Everlasting Piece (2000) with another comedy, this one of the homegrown variety from former Twin Peaks (1990) TV series writer Harley Peyton. Bruce Willis stars as suave bank robber Joe, who has escaped from prison with his hypochondriac buddy Terry (Billy Bob Thornton). Together, the two men have devised a clever scheme to take a bank officer hostage the night before a heist, then simply escort the executive to work early the next morning when they clean out the vault. Their ingenious methods have led to the men becoming media darlings dubbed "the Sleepover Bandits," but all Joe and Terry want is to make a nice pile of money before crossing the Mexican border to a life of freedom and legitimacy. Their quest gets more complicated when Terry is struck by a car driven by Kate Wheeler (Cate Blanchett), a bored housewife who's then forced to join their crime spree. Soon both Joe and Terry are in love with Kate and she with them, realizing that the two friends put together pretty much equal the perfect man. Bandits co-stars Troy Garity, son of actress Jane Fonda. ~ Karl Williams, Rovi
Critic Reviews for Bandits
Audience Reviews for Bandits
Of course, Bandits is not one of the best film ever, but presents a nice script, a good cast and a very good performance by Thornton. Bandits, also, most have not much material to present in 122 minutes, problem that could make the movie stay a little boring. Fresh.
Lucas Martins
Super Reviewer
½
Bandits is the story of two criminals who one day impulsively escape from prison and decided to embark on a series of bank robberies to fund their plan of retiring in paradise down in Mexico. Joe (Willis) is the more charismatic and cool one, while Terry (Thornton) is a neurotic, hypochondriac with a number of quirks and phobias, one of which (fear of antique furniture) is something Thornton deals with in real life. Joe and Terry enlist the help of Joe's goofy aspiring stunt man relative Harvey (Garity) to be their get away driver. It's not long before the criminals become media sensations dubbed the Sleepover Banditss due to their M.O. of putting the managers of the targeted banks on house arrest the night before the job. Things go fine enough until a chance encounter with a distraught, bored, and desperae runaway housewife named Kate (Blanchett) tags along, getting into an awkward love triangle with Joe and Terry that could threaten to really throw things off balance. PLotwise, there's a few nice little twists, turns, and touches that help the movie stand out a bit. Mostly though, it's just a little standard. The film tries to be a crime dramedy, but more often than not, it's seems unsure of what it really wants to be, becoming meandering, uneven tonally, and unfocused. Also, the film is structed as a flash back flashforward frame story, and, while it doesn't ruin the film, it doesn't keep it from getting bloated either. The plot device with the America's Most Wanted style show seems like it's aiming for satire, but mostly reminded me of Natural Born Killers which did the same sort of thing, and far better. I enjoyed this movie. It's fun, entertaining, has some decent location shooting in Oregon, good cinematography from veteran Dante Spinotti, and some solid performances from the likeable and talented cast. None of the work these people put in ranks among their respective bests, but they're all still solid nonetheless. I liked the quirkiness and the banter, but the movie seemed like it was trying too hard. Plus, I think Levinson had some really good ideas, but decided to use them all, resulting in a movie that should be tighter and more concise, but isn't. All in all, this is a flawed movie, but it's well meaning. I've seen far more derivative capers than this, and, even though this one has issues, thankfully the cnematogrpahy, locations, and performances are strong enough to carry it. This really could have been something quite terrific. Instead it's merely just "not bad". Still though, it's got enough good stuff to warrant a viewing.
Chris Weber
Super Reviewer
½
Bandits is an action comedy/crime thriller/romance movie starring Bruce Willis, Billy Bob Thornton, and Cate Blanchett in their funniest roles ever. The film takes a true story about unusual bank robbers and throws a silly romantic comedy twist on it with greatly entertaining results. Willis is a combination of daredevil and brooding loner; I can't see anyone else playing the role as well. Thornton plays the funniest, most neurotic criminal ever, and Blanchett provides the goofy, sexy center of this unlikely love triangle. The script by veteran Harley Peyton is clever but perhaps stretches everything too far. The direction by Barry Levinson is quirky like the film, channeling Woody Allen somewhat. In the media frenzy which envelopes the criminal trio, complications and hilarity of course ensue. How will their scheme play out? Who will Cate choose? It's a terrific surprise ending, and I won't tell, but you'll find yourself rooting for the "Sleepover Bandits."
Clintus Maximus
Super Reviewer
Bandits Quotes
| | |
| --- | --- |
| Terry Collins: | You know the hardest thing about being smart? |
| Joe Blake: | No. |
| Terry Collins: | I always pretty much know what's gonna happen next. There's no suspense. |
| | |
| --- | --- |
| Terry Collins: | Ducks and Beavers |
| Terry Collins: | Ducks and beavers. |