Bang Bang You're Dead
(2002)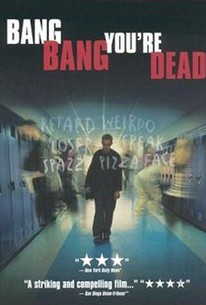 AUDIENCE SCORE
Critic Consensus: No consensus yet.
Bang Bang You're Dead Photos
Movie Info
Inspired by a play that has been presented dozens of times to middle- and high-school students throughout the United States, Bang, Bang, You're Dead ponders the possible reasons that outwardly "normal" teenagers periodically resort to Columbine-style violence. The focus here is on Trevor Adams (Ben Foster), an intelligent but hypersensitive high schooler whose troubled past has designated him "at risk." Feeling persecuted by those stronger and more popular than himself, Trevor has already run afoul of classmates and teachers alike by making death threats against the school football team. Now he has aligned himself with a group of fellow "outsiders" who call themselves the Trogs. Indulging in prankery that runs the gamut from merely irritating to potentially dangerous, Trevor and the Trogs plan an all-out deadly assault against their so-called enemies. Although the script points out that peer pressure and bullying has gone beyond the point of harmlessness in today's society, it is careful not to blame any one person or group for what ultimately happens to Trevor; even Trevor himself is shown to be comprised of equal parts villain and victim. First screened at the Seattle International Film Festival, Bang, Bang, You're Dead formally premiered October 13, 2002, over the Showtime cable network.
Critic Reviews for Bang Bang You're Dead
Audience Reviews for Bang Bang You're Dead
Arguably the most dangerous environment in our young lives and the youth is in the school environment. It's okay if you disagree with me with that bold statement, but hear me out for a moment. The school environment is where bullying can escalate to the lost lives cause by your own peers. Where a reputation hold merits in how other view you even determining how other will interact with you. The one environment where the positives are mostly focused in films, television, and novels frequently ignoring the darker side the school environment can have. That is why Bang Bang You're Dead is an important piece of filmmaking that is contemplative, honest, applicable, and most importantly does not downplay the complexity of it presented issues in it delivery. Bang Bang You're Dead follows Trevor, a troubled high school student, thanks to the effects of bullying. The plot is the most subjective element of the film. It's one of those how it presented vs. how you actually experienced it that can affect how you see it. If you see it just a piece of fiction it works in all area. The viewer receives a clear and in depth understanding of why Trevor is the way he is. His isolation from every clique, his parents deliberately ignoring his problems, an entire town that views him negatively, and the pivotal element of playing serial killer in a play (same as the film title) reflecting his possible meltdown. These elements make it a dynamic character study. Showing us more than what we simply see on the surface. The characters themselves are refreshingly realistic. Not a single a character is entirely right or wrong, but presented in shades of gray whether it's from the point of views of bully picking on classmates or parents lack of understanding on how to handle serious issues. It does goes into depth on the topic of accessibility of certain plays, but tackles more opened range issues like the delicate connections of between a community and pushing a breaking point. With current fear of mass school shooting occurring at anytime, the rise of bullying, among other issues it's a thought provoking piece of filmmaking that has become more relevant. Marc Foster performance is simply amazing. The film just wouldn't be the same without Foster in the lead role gripping the audiences hearts with raw honesty and truth. He underplays more vulnerable side of his role for most of his screen time becoming very effective in one very powerful scene. Mr. Cavanagh gives us a fine performance of what is more or less his TV character, Ed, thrust into the well-meaning and perhaps wiser than the rest of the community, theater teacher who believes in Trevor's fitness for high school. Randy Harrison also does a great job portraying Sean, a fed-up and hurt teen on the brink of becoming a school terrorist. The rest of the supporting cast sell their roles no matter how large or the small the part is. Bang Bang You're Dead is a profound film tackling issues that are relevant. For isolation, bullying, violence, one's reputation, and so forth is a part of the school environment whether or not you experience them for yourself. It takes a bold piece to showcase the impact the negative side this environment can and does hold upon the youth. I know I come off preachy about the morals it enforces that seem like a no brainer, but in actuality have we learned anything from these events?
Caesar Mendez
Super Reviewer
½
This is one of the strongest pieces of cinema I've seen in a long time, and the most poignant movie I've ever seen regarding the topic of violence in schools. This is an absolute must-see for anyone who takes interest in this topic, anyone who is raising a teen, or those who wish to go back to that high school experience in the raw to remember what those four years were really like......... It's not often that a film is halfway through the credits and I'm still staring at the screen in awe. It was overall too short but it displayed the clear message that it was obviously trying to send. I think this movie should be shown to every high school, in every class.
Cynthia S.
Super Reviewer
½
Bang Bang You're Dead tells an excellent story carried by a brilliant Foster. It's a shame that the message is preached so heavily. The main story sees Foster at school a year after he made a threat against the football team. It has gained him both fear, respect and hatred. Soon he hangs in the balance between a teacher that wants to help him and a gang of disturbed youths. It shows the reasons that some people go to such destructive lengths, but never excuses their actions. Some of the writing is quite amateurish, especially a joke that fails every time, where the parents get the name of the play wrong. Luckily most of the younglings bring their A game and leave an impression that the message fails to deliver.
Luke Baldock
Super Reviewer
Bang Bang You're Dead Quotes
| | |
| --- | --- |
| Trevor Adams: | When I'm gone, you'll all have this to ponder, and maybe realize why I did what I did. A little push in front of other kids is a very big deal, particularly when you know it's gonna happen to you every single day, every single day, every single day, you're almost relieved when it actually happens. You're always waiting, waiting for the next attack. They don't just hurt kids, they make you hurt yourself. |
| Trevor Adams: | I can't take two more years of this, and the more they call me the mad bomber, the more they're scaring themselves. They don't know what I'm capable of, they don't know what I can do. |
| | |
| --- | --- |
| Sean: | You wanna go manage some anger? |
| | |
| --- | --- |
| Trevor Adams: | Some people don't even need a gun to hurt you. They use words or laughter or enjoy watching you bleeding to death. They get off on watching you fighting back the tears, getting a lump in your throat, blushing, wanting to cry. |
| | |
| --- | --- |
| Police Chief Bud McGee: | Why do you bring a video camera to school? |
| Trevor Adams: | The same reason you bring a gun to work. To shoot people. |