Bang Boom Bang - Ein todsicheres Ding
(1999)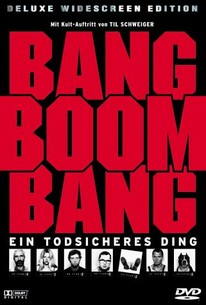 AUDIENCE SCORE
Critic Consensus: No consensus yet.
Movie Info
What's a criminal to do when he has problems managing other people's money? Keek (Oliver Korittke) is an awkward sometimes-thief whose partner Kalle (Ralf Richter) is serving time in jail. Keek was put in charge of watching over Kalle's money while he is behind bars, but Keek has managed to spend most of the cash. Keek gets word that Kalle is due to hit the streets and that he expects a Mercedes and his money to be waiting for him. Since Kalle is not known for his kindness or patience, Keek panics, buying a load of counterfeit money and arranging for a Mercedes from a pair of thieves. Soon Kalle arrives, ready to kill a man who he's convinced slept with his girlfriend, while the car thieves want their Mercedes back and Keek plans a robbery to raise the money that will keep his scams quiet (and himself breathing). Bang Boom Bang was the feature-length debut from director Peter Thorwarth and received its premiere at the 1999 Munich Film Festival.
Critic Reviews for Bang Boom Bang - Ein todsicheres Ding
There are no critic reviews yet for Bang Boom Bang - Ein todsicheres Ding. Keep checking Rotten Tomatoes for updates!
Audience Reviews for Bang Boom Bang - Ein todsicheres Ding
½
If Quentin Tarantino or Guy Ritchie were German they probably would have made this film sooner or later. Full of crooks, major idiots, bizarre plot turns and a very dark sense of humor, this could be their baby. Instead, it is set in the Ruhr area of Germany and tells the story of a heist gone wrong. Said heist is the highlight of the film and one of the funniest sequences ever filmed here. Other parts of the film sometimes feel a tad too rural and amateurish, probably intentionally so. Overall a very funny and entertaining film that doesn't even try to hide its role models.
Bang Boom Bang - Ein todsicheres Ding Quotes
There are no approved quotes yet for this movie.