Bangkok Dangerous
(2008)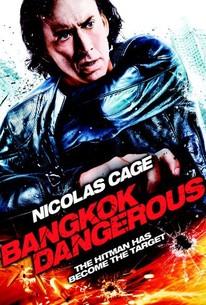 TOMATOMETER
AUDIENCE SCORE
Critic Consensus: With murky cinematography, a meandering pace, a dull storyline, and rather wooden performances, The Pang Brothers' Hollywood remake of Bangkok Dangerous is unsuccessful.
Movie Info
The life of an anonymous assassin takes an unexpected turn when he travels to Thailand to complete a series of contract killings. Joe a remorseless hitman, is in Bangkok to execute four enemies of a ruthless crime boss named Surat. He hires Kong, a street punk and pickpocket, to run errands for him with the intention of covering his tracks by killing him at the end of the assignment. Strangely, Joe, the ultimate lone wolf, instead finds himself mentoring the young man while simultaneously being drawn into a tentative romance with a local shop girl. As he falls further under the sway of Bangkok's intoxicating beauty, Joe begins to question his isolated existence and let down his guard ...just as Surat decides it's time to clean house
News & Interviews for Bangkok Dangerous
Critic Reviews for Bangkok Dangerous
Audience Reviews for Bangkok Dangerous
A hitman doing one last job in Bangkok takes on a student in the form of a local small time criminal and tries to escape his violent lifestyle through a relationship with a deaf-mute shop girl. The Pang brothers lobotomise their own well-received Thai action movie and create such a pick and mix of lumbering genre cliches that the result almost topples over under its own clod-hopping weight. Nicolas Cage sports one of his more ridiculous barnets (and that's up against some VERY stiff competition), looking like he's come straight from auditioning for the headless horseman in Sleepy Hollow and sleep walks through a plot so predictable it couldn't surprise a goldfish. And most criminal of all, the audience have to wait for an hour to see any real action at all and what there is is half-hearted and dull. Bangkok Dangerous doesn't even have the Hollywood gloss you'd expect from a modern action film, having instead a cheap, nasty Steven Seagality about it. It's obvious that the Pang brothers just watched Leon: The Professional and John Woo's The Killer and thought to themselves "We can do that!". Guess again, guys.
½
Very average film which has had a terrible casting mistake in Cage. He just doesnt fit the part in this story, his hair is getting stranger every film he does and the stunts are obviously not him. The film does look good based in Bangkok with its neon skyline and old city areas, the Thai cast is much better than the US cast, the problem is this kinda feels like a rerun of 'Leon' and nowhere near as good. Its not Cages best film but its average, very average.....and slightly dull.
Phil Hubbs
Super Reviewer
Oh my, and to think that after I saw Lord of War, I promised myself I would never waste another minute watching Cage movies. I guess I must have some kind of deep-seated fascination with him -- perhaps I'm unwilling to believe he's lost the great potential he once exhibited. It is indeed a sad, sad phenomenon, that actors who have lost their edge keep on making movies. Not that I think he couldn't make a comeback at some point. He had the shining once. He needs to recapture that with a break from making movies.
Lanning : )
Super Reviewer
Bangkok Dangerous Quotes
There are no approved quotes yet for this movie.