Bangkok Dangerous
(1999)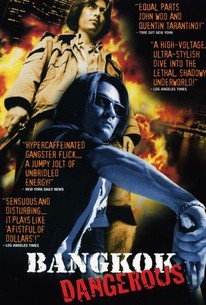 Movie Info
A hired killer gives up his career for love in this stylish crime drama from Thailand. Kong (Pawalit Mongkolpisit) is a hit man who never speaks as he carries out his deadly assignments. Kong has begun to grow tired of his life of crime, and becomes infatuated with Fon (Premsinee Ratanasopha), a beautiful young woman who works as an assistant in a drugstore. As Kong tries to win the affections of Fon, he decides to turn against the gangsters who control him, and use his skills to earn his freedom. Bangkok Dangerous was directed by the brother team of Danny Pang and Oxide Pang; Oxide previously directed Who Is Running.
Critic Reviews for Bangkok Dangerous
Audience Reviews for Bangkok Dangerous
Action thriller about the exploits of a death mute hitman working for a seedy Thai gangster. Despite the interesting disability the story doesn't herald too many surprises. But the film has enough style, heart and bloody gun-play to distinguish itself among other contract-killer flicks out there and it's head and shoulders above many of them. Well worth checking out!
Gritty depiction of a handful of amorals make me wonder "What's the point of this film??" Calling the story threadbare is an insult to fishnet stockings. Let's see how many words it takes to describe: Deaf/mute assassin meets girl, then avenges mentor and a friend. Seriously, that's the entire 100 minutes in an eleven word nutshell. The scenes of killing (and there are many, but often brief) would appeal only to people who watch those wretched "World's Wildest Drivers" TV shows. The only point of interest is that the director does have an interesting style and offers some original impressionistic images. Unfortunately, given the non-story, he feels the need to shoot the entire film in an arty, crazy-angled manner to distract from the gaping absence of plot. My advice: skip it. There's a good chance the American version represents an improvement.
Doctor Strangeblog
Super Reviewer
½
Magnificent Thailand action movie I ever seen with a deaf mute assassin. The imagery is beautiful and imaginative, excellent editing and vibrant colors. The cast was good, especially Pavarit Mongkolpisit playing Kong, the deaf assassin, he did a fantastic job, showing a full range of emotion without uttering a word. That does make 100% sense to know about a deaf person who could learn experiences and everything to become smart and professional one, not dumb in this film, just like me and other Deafies. I understood what Kong was doing in the scenes including communicating with a beautiful girl and eyes open on gunfights.
Dean McKenna
Super Reviewer
Bangkok Dangerous Quotes
There are no approved quotes yet for this movie.