Bank Shot
(1974)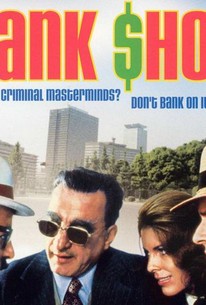 AUDIENCE SCORE
Critic Consensus: No consensus yet.
Movie Info
Wendell Mayes adapted Donald Westlake's novel for this comic tale of a bank robber who decides to make a score by stealing the actual bank itself with some house-moving equipment.
Critic Reviews for Bank Shot
All Critics (3) | Top Critics (1) | Fresh (1) | Rotten (2)
The best thing about the film is Harry Stradling Jr.'s super photography - but that's scarcely enticement to see a really minor Scott vehicle.
Bank Shot is breezy good fun, and if its delights don't drive you to the same gusts of hilarity Cassidy employs, you will find a lot to chuckle over.
Nothing saves Bank Shot from total disaster. Not even George C. Scott's performance as a criminal mastermind.
Audience Reviews for Bank Shot
½
In "Bank Shot," Al G. Carp(Sorrell Booke) visits his friend Walter Ballentine(George C. Scott) in prison with a plan for a bank robbery. In return, Ballentine is so impressed with the plan that he pulls off a daring escape the following day with a little help from Eleonora(Joanna Cassidy). Once in Los Angeles, they are joined by Carp's nephew Victor(Bob Balaban, incredibly young), formerly of the FBI, where Ballentine decides that the best way to rob the bank is to steal the entire building. "Bank Shot" is an often amusing piece of nonsense, that succeeds best when it does not try so hard, crossing the line from the silly to the absurd. I suppose most people would make George C. Scott the straight man here with such a motley circus of characters but Ballentine is as much a nut, no matter how seriously he takes his job; so it works, along with a few masterful shot compositions. In any case, the movie made me laugh and that's the important thing, right?
A hilarious bank robbing movie, it's sort of slapstick too. This movie is really fun, I recommend it.
Bank Shot Quotes
There are no approved quotes yet for this movie.