Baraka
(1993)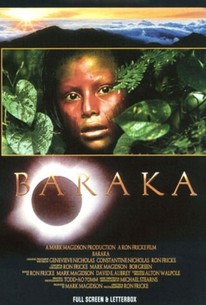 Movie Info
Named after a Sufi word that translates roughly as "breath of life" or "blessing," Baraka is Ron Fricke's impressive follow-up to Godfrey Reggio's non-verbal documentary film Koyaanisqatsi. Fricke was cinematographer and collaborator on Reggio's film, and for Baraka he struck out on his own to polish and expand the photographic techniques used on Koyaanisqatsi. The result is a tour-de-force in 70mm: a cinematic "guided meditation" (Fricke's own description) shot in 24 countries on six continents over a 14-month period that unites religious ritual, the phenomena of nature, and man's own destructive powers into a web of moving images. Fricke's camera ranges, in meditative slow motion or bewildering time-lapse, over the Church of the Holy Sepulcher in Jerusalem, the Ryoan-Ji temple in Kyoto, Lake Natron in Tanzania, burning oil fields in Kuwait, the smoldering precipice of an active volcano, a busy subway terminal, tribal celebrations of the Masai in Kenya, chanting monks in the Dip Tse Chok Ling monastery...and on and on, through locales across the globe. To execute the film's time-lapse sequences, Fricke had a special camera built that combined time-lapse photography with perfectly controlled movements of the camera. In one evening sequence a desert sky turns black, and the stars roll by, as the camera moves slowly forward under the trees. The feeling is like that of viewing the universe through a powerful telescope: that we are indeed on a tiny orb hurtling through a star-filled void. The film is complemented by the hybrid world-music of Michael Stearns. ~ Anthony Reed, Rovi
Critic Reviews for Baraka
Audience Reviews for Baraka
Released in 1992, it's took me a while to get around to this one. It's director, Ron Fricke, had previously contributed writing, editing and cinematography duties on the similarly themed and outstandingly powerful "Koyaanisqatsi" by Godfrey Reggio before embarking on this (his own) journey ten years later. I wouldn't even call this a film. I'd call it more a series of moving images. But what stunning beauty there is to behold here. It was filmed by a five person crew over a period of 14 months in 24 countries across 6 continents and there are a plethora of images that will instil a myriad of emotional responses; they will enlighten and disturb, they will force you to ponder and wonder. In short, they are images of evolution and life and they will leave you in absolute awe of our natural world and the direct involvement we have in it. It explores different cultures and tribal rituals, it marvels at cloud formations and stunning sunsets. This is the flora and fauna of our environment in all it's most natural beauty. If you can imagine Terrence Malick directing a dialogue free, documentary then you have a idea of what to expect here. It does contain a certain, loose, narrative structure and like the sublime, BBC, David Atteborough nature programs it is stunningly captured and assembled. As mentioned, it contains no dialogue whatsoever, relying solely on sounds and an ethereal music score, featuring the haunting and angelic vocal talents of Lisa Gerrard. Anyone familiar with the aforementioned and absolutely amazing, visual documentary "Koyaanisqatsi" or it's follow up "Powaqqatsi" will know how much of treat they are in for here. If you haven't seen any of these, then I urge you to do so. There isn't much else I can say to describe this other than... the meaning of the word 'Baraka' is an ancient Sufi word that translates to "a blessing, or the breath, or the essence of life from which the evolutionary process unfolds" It simply has to be seen to be believed.
Mark Walker
Super Reviewer
½
Baraka is a one-of-a-kind film that deserves to be seen. Director Ron Fricke has created a film that is stunning, and meditative, and at times even shocking. The camera work and editing has allowed for the visuals to do all the talking; there is not one word of dialogue in Baraka. I found his message clear and precise, his visuals absolutely breathtaking, the music fantastic, and the film as a whole mesmerizing. The only complaint I have is it's length. It's about 10 minutes too long in my opinion, but Baraka is not to be missed.
Raymond Wieser
Super Reviewer
Over 90 minutes of the most visually stunning filming ive ever seen. A must see on blu ray due to the amazing restoration of the original film to a high def transfer that will put any movie to shame. You will feel like your there. You feel like you can reach into the screen and touch it. This is something else.
John Manard
Super Reviewer
Baraka Quotes
There are no approved quotes yet for this movie.