The Barbarian Invasions (Les Invasions barbares)
(2003)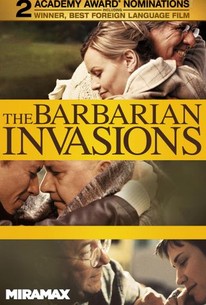 The Barbarian Invasions (Les Invasions barbares) Photos
Movie Info
Director Denys Arcand revisits the situations and relationships that informed his international breakthrough The Decline of the American Empire with this dialogue-driven character study. Set 17 years after Decline, The Barbarian Invasions, like its predecessor, examines the varying politics -- economic, personal, and sexual -- at play among an aging group of friends, lovers, and ex-spouses. This time around, leads Remy (Rémy Girard) and Louise (Dorothee Berryman) are divorced, with their son Sebastien (Stéphane Rousseau) living in capitalist splendor in London. But the slightly estranged family is brought together by Remy's losing battle with terminal cancer, and the hedonistic, ex-radical father and straight-laced son have to overcome their differences. Along the way, Remy waxes nostalgic with many of the same pals who made up the dinner party of the first film. ~ Michael Hastings, Rovi
Critic Reviews for The Barbarian Invasions (Les Invasions barbares)
Audience Reviews for The Barbarian Invasions (Les Invasions barbares)
Much more moving and complex that the first picture, Danys Arcand bring these delight characters to the screen again, together with past, present and future sad ghosts.
Lucas Martins
Super Reviewer
½
A French Canadian guy is dying slowly so his rich son sets it up so he goes out after his old friends party together one last time (like that Greek philosopher guy ... but with woman). Lotsa talk about the good ol'days and sniffles later and everyone nods their head and says goodbye. Tries maybe too hard to be meaningful, like a Hallmark card with nothing personal written on it.
Kevin M. Williams
Super Reviewer
½
A truly outstanding film that leaves you with a great deal to digest. It does have its lulls, but the excellent acting and the double-edged sword that is Arcand's script more than make up for it. To the very end, you don't know who to take seriously and who to dislike, and the end result is a moving experience sprinkled with some of the darker comedy you'll ever see on film. It's a great creator of cynics, and while you may think you get what you want with the ending, you may not want what you got. It's brilliant.
Daniel Perry
Super Reviewer
The Barbarian Invasions (Les Invasions barbares) Quotes
There are no approved quotes yet for this movie.