Barbecue
(2014)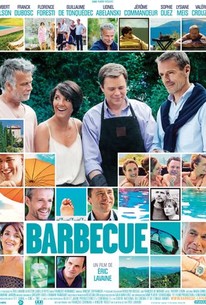 AUDIENCE SCORE
Critic Consensus: No consensus yet.
Movie Info
For his 50th birthday, Antoine receives a rather unpleasant gift: a heart attack. From now on, he's going to have to start being more careful. But Antoine has spent his whole life being careful - careful of his health, careful of his diet and carefully taking care of his family and friends. Now Antoine wants to shake things up. And he does just that - both in his life and the lives of those around him!
Critic Reviews for Barbecue
Audience Reviews for Barbecue
½
The type of film that was probably more fun to shoot than it was to actually watch. It's not what I would call a bad movie, or even a boring one, though it might seem to a more 'casual' viewing audience, it's just one that reeks of massive self-indulgence. We criticize Adam Sandler because a lot of his films are really just paid vacations for him and his buddies, and he's admitted to this. And, in some ways, that's what this film feels like. I have no idea whether the director cast his friends in this film, I have no knowledge of Eric Lavaine's career and his casting process, so I wouldn't know. Then again, to be fair, the entire idea of the film is for these characters are actually on vacation after Antoine's heart attacks prompts him to enjoy his life's excesses and to avoid being so careful about everything. So, in that regard, it works like it is intended. But, by and large, the film's narrative is fairly lackadaisical in its approach. There's nothing here to be honest. Antoine's friends all have their own little one-dimensional subplots, but they don't really delve into anything too deep. I will say that the film does have some insight into long friendships and how, at a certain point, you just grow bored with life. I think those are the only moments where the film showed some insight into what it must be like to be 50 in this day and age, at least for Antoine and his friends. The cast is at least quite good here. There's a certain connection between all of them that makes it feel like they've all been friends for as long as they say they have. This is, obviously, the most important aspect of the film. And there are some fairly funny moments, all things considered. The setting itself, the house where they have their little two week vacation is absolutely beautiful with a great view, so there's that. But that hardly amounts to much in the long run. Don't get me wrong, when a film is about a vacation, it certainly helps a lot, but it doesn't add one bit to the entire narrative or bottom line of the film. With that said, one thing that works to the film's benefit is that it is so easy to watch. Light, breezy and somewhat charming, depending on what you thought of it. Like I can't complain about this film in that regard. It was easy to watch and I was never driven mad by the film's narrative, acting or approach to its story. It might not be exactly fun, or somewhat interesting at times, but it does have some highlights mixed in with some more bland moments. The cast is solid enough and there's some moments where it shows genuine insight. But, as I mentioned in the beginning of the review, it's not the type of film that I would call all that much fun to watch. It looked fun to make, that's for sure. You can do much worse than this though.
Jesse Ortega
Super Reviewer
Barbecue Quotes
There are no approved quotes yet for this movie.