Barbershop: The Next Cut
(2016)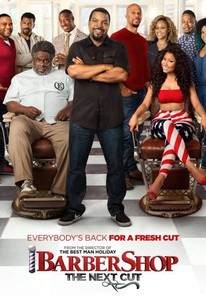 TOMATOMETER
AUDIENCE SCORE
Critic Consensus: Heartfelt, thought-provoking, and above all funny, Barbershop: The Next Cut is the rare belated sequel that more than lives up to the standard set by its predecessors.
Barbershop: The Next Cut Videos
Barbershop: The Next Cut Photos
Movie Info
It's been more than 10 years since our last appointment at Calvin's Barbershop. Calvin and his longtime crew, including Eddie, are still there, but the shop has undergone some major changes. Most noticeably, our once male-dominated sanctuary is now co-ed. The ladies bring their own flavor, drama and gossip to the shop challenging the fellas at every turn. Despite the good times and camaraderie within the shop, the surrounding community has taken a turn for the worse, forcing Calvin and our crew to come together to not only save the shop, but their neighborhood.
News & Interviews for Barbershop: The Next Cut
Critic Reviews for Barbershop: The Next Cut
Audience Reviews for Barbershop: The Next Cut
½
Watching The Next Cut is like browsing aimlessly through the threads in a forum dedicated to black politics in America while having PG/slapstick comedy injected into your skull. It's not particularly insightful and chalk full of cliché familial and romantic subplots to try and create some semblance of a story. The film is made with good intentions in mind and meant to promote a positive message but also represents every bit of mediocre filmmaking.
Drake Tsui
Super Reviewer
½
All of the social issues that are brought up in this film are SO POIGNANT. I'm glad that the African American community is finally brave enough to stand up for what is righteous, just, and good concerning "the issues". Oh that sounds racist? Well, let me tell you mister, I couldn't possibly be racist because I gave this film a good review! - said every single white person who saw this movie and wrote about it. This movie is a tonal mess. It is really funny in parts, then it segues into actual political dialogue, and later furthered along by relationship issues. Repeat that for two hours, and you have the third/fourth Barbershop movie. The dramatic acting is contrived, the comedic acting is excellent, and then...nothing happens. If the inextricable elements of celebrity worship and internet culture could be cancelled out, this would make for a very hopeful cultural commentary. The fact that the film is dependent on completely unrealistic societal expectations makes it both endearing and worthless. The only people who are going to think that Barbershop: The Next Cut is going to stop a gang war are naive, white, and trying too hard. On the flip side, this film is very thoughtful about its subject matter, and, as dialogue driven films go, never boring. It is littered with the good and the bad of both comedic and dramatic actors and acting, and one thing it doesn't lack is soul. But as far as it reaches to make a political statement or lend hope to a community of the oppressed, just remember, if you are disenfranchised with the power structure, it doesn't matter how many hours you cut hair, you aren't going to stop President Obama from killing brown people on the other side of the globe. Now that's some gangsta shit.
K Nife Churchkey
Super Reviewer
½
A socially conscience comedy that needs more than a little bit off the top, the feelgood and styling The Next Cut nonetheless finds Ice Cube at the top of his game and boasts broad appeal beyond one demographic. Granted, Cube and Company turn the south side of Chicago into the Windbag City with some overly talky scenes. Still, overly long sociological back-and-forths aside (stacked with too many pop culture references that will seem dated by the time audiences leave the theater given our accelerated society), the latest Barbershop makes and says a lot of sense. In all honesty, the flick preaches the truth better than the endless slate of sermonizing faith-based movies currently littering cinemas. Oh, The Next Cut hits audiences over the head-just doesn't continue to do so until moviegoers become unconscious. Many African-American comedies take a hit for going for cheap laughs that come off as broad but, ironically, fail to broaden audiences beyond their target demographic. The latest Barbershop, on the other hand, consistently keeps things higher minded, funny, and topical. In this PG-13-rated comedy, the crew at Calvin's Barbershop (Cube, et al) come together to bring some much needed change to their neighborhood after their surrounding community takes a turn for the worse. It helps to have a roster of characters that you care about as realized by a stellar cast including Hall (Vacation), Anthony Anderson (ABC's Black-ish), Cedric the Entertainer (Top Five), Eve (VH1's Single Ladies), J.B. Smoove (A Haunted House), Common (Run All Night), and Nicki Minaj (The Other Woman). Sure, the flick plays out as a glorified After School Special at times...but a really "special" After School Special. Ice Cube has tackled many genres over the years from hard-hitting dramas (Boyz in the Hood) to family comedies (Are We There Yet?). This cross-section of his strengths, however, showcases him at his most charismatic and powerful-powerful, that is, in his ability to deliver a message. Bottom line: Straight Outta Coiffing
Barbershop: The Next Cut Quotes
There are no approved quotes yet for this movie.