Barefoot
(2014)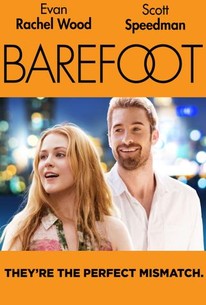 Movie Info
The "black sheep" son (Scott Speedman) of a wealthy family meets a free-spirited, but sheltered woman (Evan Rachel Wood). To convince his family that he's finally straightened out his life, he takes her home for his brother's wedding where an improbable romance blooms, as she impresses everyone with her genuine, simple charms. (c) Roadside Attractions
News & Interviews for Barefoot
Critic Reviews for Barefoot
Audience Reviews for Barefoot
I watched some, but I felt like I'd seen it all before and done better. I couldn't believe in the characters or situation at all.
Nicki Marie
Super Reviewer
Evan Rachel Wood and Scott Speedman star in the quirky romantic comedy Barefoot. The story follows an L.A. hustler who pairs up with a young woman who's escaped from a mental hospital and takes her to his brother's wedding, hoping to pass her off as his girlfriend. Wood gives an incredible performance that really captures the sweetness and naiveté of the character. And her chemistry with Speedman is quite good, as the two come off as a charming (and eccentric) couple. Additionally, the film has a nice message about loving unconditionally. A rather underrated indie comedy, Barefoot is wonderfully entertaining and fun.
Dann Michalski
Super Reviewer
"We're doin' a dance that can't be beat, we're barefootin'!" Wow, I am old, though not quite as old as you might think, because rather than the 1965 original by Robert Baker, I'm thinking about Alabama's version from 1989, seeing as how this film is about Alabama... right? I mean, all of our women here walk around barefoot, like the rednecks we all are, so if this film is about going barefoot, then it must be about my sweet home. This whole stereotyping thing can go both ways, because considering that this is a festival rom-com-dram based on a film from Germany, so this film just has to be that good ol' Yankee kind of hipster. Andrew Fleming must have looked at the box office performance of "Hamlet 2" and realized that he's not a big enough director to be working with a budget of a whopping... $9 million, thus, he has to work with a much smaller budget that, well, probably still won't get its money back. This film can't seem to even figure out which side of the United States it can find its audience in, because it's Yankee enough to be hipster, but so southern that it is, in fact, set in Louisiana, and doesn't have much respect for women. Wow, this film is bombing, especially with the two women out of the six people who saw it (Who would have thought that the primary audience for this would be men? Eh, hipster men aren't real men), and while I certainly don't care for it, I don't hate it, for a couple reasons. This film is desperately deep in its trite fluff, but with its hint of indie flavor, it does try a bit, at least in the technical department, with Alexander Gruszynski delivering on a few pretty points in cinematography, while Michael Penn hits some charmingly perky licks in his score. Neither of these stylistic elements are even slightly unique, and they themselves tend to go crippled under flatness that sometimes feels more like laziness, but that they have some degree of inspiration endears on an aesthetic level, while livening things up, with the help of a hopelessly misguided director who cloys, cloys and cloys, and then manages to work in a touch of touching charm. The film never really resonates, but there is something to kind of enjoy in Andrew Fleming's directorial perk, which at least begets an adequate pace that in turn begets some entertainment value which actually may be endearing enough to get those with patience by. It helps that there is something interesting in this incredibly trite, improbable and lazily told tale, which holds a degree of potential in its colorful plot, and in a few worthy themes, regarding misunderstandings and finding a more worthwhile path in life, to accompany a number of problematic themes that I will touch more upon later. There is something promising here, and neither Fleming nor writer Stephen Zotnowski seems to have much of a clue as to what he's doing, so if nothing else sells, it's the performances, particularly those of Scott Speedman and the lovely Evan Rachel Wood (At the risk of sounding creepy, her titular bare feet are admittedly very beautiful), with Wood, as an unstable and emotionally and socially stunted woman who has more to her than meets the eye, being about as effective as she can be. The characterization is so shoddy, but the portrayals do bring some humanity that all but carries this film, which ultimately falls flat, but does indeed have some admirable qualities, no matter how spare. Beyond the performances, there aren't very many strengths, although they are recurrent enough to bring the final product to the brink of a decency that is ultimately broken while the flaws come piling on and piling on. Both cloyingly fluffy and simplistically indie, this comedy-drama can't even keep even with either of its tonal extremes, featuring humor which jars between over-the-top and silly, and somewhat grounded and quirky, and which is broken a little too bluntly by some superficial dramatics. Tonally speaking, the film is all over the place, and it's not like it's particularly coherent in its narrative direction, and it should tell you just how messy this film is that glaring inconsistency is ultimately one of the lighter missteps in this almost hopelessly misguided affair, partly because, no matter what the tone, the writing and direction are consistently cloying, with the humor all but consistently falling flat, almost as embarrassingly overwrought and dully under-inspired, not unlike the conceptually and tonally contrived dramatic touches that are occasionally kind of touching, but mostly overbearing. The storytelling either lazes out something awful or tries much too hard, hammering on and on with its themes, a couple of which are very problematic, for although the aforementioned themes about misunderstanding people and trying to find a better path in life are reasonably worthy, there are underlining themes about the benefits of taking advantage of the vulnerable, and about running away from certain conflicts that are just about offensive, that is, when you look deep enough into this film to spots its sorry intentions. Really, much more problematic is the characters, and that especially goes for Scott Speedman's Jay Wheeler character, because even though Evan Rachel Wood's Daisy Kensington is terribly obnoxious an unstable fish out of water, her ignorance is easier to forgive than Wheeler's being an out-and-out dirtbag, an initially good-for-nothing jerk who takes advantage of people, particularly those of great vulnerability, for his own gain, and who is somewhat redeemed by the end, but takes too long and forceful of a road to redemption for you to care. The leads are either obnoxious or simultaneously obnoxious and disgusting, but either way, their ridiculously unbelievable, which is only fitting, for the plot surrounding them is its startlingly ludicrous, having a little more genuineness and charming potential for enjoyability than the usual contrived romantic-comedy-drama of this type, but ultimately being a story about a dirtbag taking advantage of and falling in love with a deeply damaged girl to keep appearances in front of his disappointed family, then go on the lamb from responsibility and reasonable figures is as stupid as it sounds. The strengths, while certainly not plentiful, are recurrent, and they endear, even though this film is messy in most every way, hitting misguided misstep, after misguided, with an overwhelming laziness that is intensified by the sloppy path's, plain and simple, being fiercely predictable, due to the laziness' peaking with constant clichés. There's something a little refreshing about this film's being such a messy mash-up of commercially fluffy stupidity and liveliness, and indie limpness and charm, but either style is riddled with basic tropes, as surely as it is riddled with misguidance, meeting every admirable trait with a flimsy trait which might keep the film from being contemptible, but certainly makes for a flat final product. When the dance is finally beat, Robert Baker... or Alabama, there's something endearing enough about the pretty points in cinematography and score work, touching occasions in entertainingly well-paced direction, interesting spots in a colorful story, and across-the-board decent performances - especially the one by Evan Rachel Wood - for the final product to border on decent, ultimately falling under the overwhelming weight of the glaring tonal and narrative incoherencies, flat humor, dramatic contrivances, problematic themes, even more problematic leads, ridiculous story and onslaught of clichés which render Andrew Fleming's "Barefoot" an occasionally charming, but mostly mediocrely misguided romantic dramedy. 2.25/5 - Mediocre
Cameron Johnson
Super Reviewer
Barefoot Quotes
There are no approved quotes yet for this movie.