Barney's Version
(2011)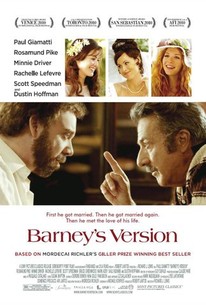 TOMATOMETER
AUDIENCE SCORE
Critic Consensus: With a magnificent performance by Paul Giamatti, Barney's Version offers much comedy and insight to the complexities of modern romance.
Movie Info
Based on Mordecai Richler's award winning novel -- his last and, arguably, best -- "Barney's Version" is the warm, wise and witty story of the politically incorrect life of Barney Panofsky. The film spans three decades and two continents. There is his first wife, Clara, a flame-haired, flagrantly unfaithful free sprit. The "Second Mrs. P." is a wealthy Jewish Princess who shops and talks incessantly. It is at their lavish wedding that Barney meets, and starts pursuing, Miriam, his third wife, the mother of his two children, and his true love. Not only does Barney turn out to be a true romantic, he is also capable of all kinds of sneaky acts of gallantry, generosity, and goodness. His is a gloriously full life, played out on a grand scale.
News & Interviews for Barney's Version
Critic Reviews for Barney's Version
Audience Reviews for Barney's Version
A man meets the woman of his dreams at his wedding. After you suspend your disbelief that any woman would fall for a man who woos her at his own wedding, you might enjoy this film. There are some funny moments, but Paul Giamatti and Dustin Hoffman wring a dramatic tale out of the lunacy. The key is the honesty of Giamatti's portrayal. He's committed to the character's integrity, even if that integrity belies anything a reasonable person might encounter in real life. Particularly compelling are the film's final moments. Overall, this is a tour de force for Giamatti even if the film defies believability.
Jim Hunter
Super Reviewer
½
This is the story, told in confessional form, of 30 years of the life of Barney Panofsky. The film covers a lot of stuff in his life, but the primary focus is on his three marriages: the first to an openly adulterous free spirit, the second to a stereotypical Jewish American Princess, and the third, to the love of his life...whom he has a few kids with, and fist met (and fell in love with) on the day he married wife #2. Considering the subject matter, it might seem like this is a Woody Allen film, but alas, it is not. It's based on a novel and stars Paul Giamatti. Other than the women, the other big presence in Barney's life is his father Izzy, played here by the great Dustin Hoffman. I thought I would like this dramedy. It just seemed like something I would dig. In the end though, I didn't like it. It's overlong, dawn out, fairly slow, and yeah, the subject matter is something that I can easily get tired of, even when it really is done by Woody. I'm not being racist or anti-semitic here. I can only take so much of heavy Jewish shtick (or, for that matter, black, or even Catholic), before it gets dull and tedious. And in this movie, not really a whole lot is done to make the story come off as remarkable or special. Yeah, there's a murder subplot, but that comes off as a bit odd and sticks out. I will give praise to the cast and their performances though. That's the main thing that keeps me from giving the film a lower grade. BEsides Giamatti and Hoffman, the three wives are played by (in order) Rachelle Lefevre, Minnie Driver, and Rosamund Pike. Nothing to complain about here. Bruce Greenwood is also present, but barely, thus his talent is basically wasted. The film does feature though, what is probably the best performance Scott Speedman has given. He plays a wild buddy of Barney's, and made me wish he was in even more of the film, and he's in a decent amount of it. As far as the technicals go, this is a well made film. It just needed to be shorter, tighter, and less boring. I don't recommend this, but if you feel the need to see it, do so only for the acting. And sure, even the makeup. That was decent, too.
Chris Weber
Super Reviewer
First he got married. Then he got married again. Then he met the love of his life. Excellent Film!!!! Loved it. Superb performances by all actors. Give yourself a night off, forget about your problems and find out about Barney's problems and his friends problems, and his wive's problems. It will make your life seem better. Barney's Version is based upon the novel of the same name by Mordecai Richler. The film spans several decades showing us the life of a man named Barney Panofsky. There is a great deal of comedy in this film as we laugh together with Barney and his antics and sometimes laugh right at him for his unsophisticated and ignorant ways. However as I said above we do get to see many different sides of Barney as the film goes along and after awhile I stopped thinking that this character is full of himself and kind of a jerk. Instead, I realized and I think the point of the writing and the film itself was to present him as a normal human being with some very good points and also some very obvious flaws, or things they need to work on, which in a sense I think describes just about anybody you can think of. This film is a real powerfully emotional film. Yes there is the comedy aspect, but it goes so beyond that by showing the inevitable difficulties we will all end up facing in life and I think because it is done so strongly here, it makes us reflect on our own lives and the choices we have made so far no matter how old, or young you are and whether those choices have been good, or just the opposite. The writing of the characters and what makes them so human is one of the film's strongest points because they all have wonderfully different personalities and are all a joy to watch as we watch their lives unfold before us. The acting is also wonderful here especially by Paul Giamatti, who plays Barney in what I would call one of the best male performances of 2010. He embodies the role so perfectly and we can see the emotion, the hurt, the humour and everything coming out of this brilliant performance. The supporting actors and actresses are all very good here as well. I was so pleased at what an involving film this was. It took me away from my own world and thoughts and put me instead into Barney's world and made me laugh, cry and reflect with them and what a wonderful experience that was. Barney's Version is not only entertaining, but also deeply human and full of humour and tragedy that will both touch our hearts and leave us with what I think is a wonderful and insightful night out at the movies. Barney's Version is one of the best films of 2010 and I hope both American and Canadian audiences will embrace it and go out to see this wonderful gem. Go see this people!!! Take a ride through the life and memories of Barney Panofsky, a hard-drinking, cigar-smoking, foulmouthed 65-year old hockey fanatic and television producer, as he reflects on his life's successes and (numerous) gaffes and failures as the final chapters of his own existence come sharply into focus.
Barney's Version Quotes
| | |
| --- | --- |
| Barney Panofsky: | Watch your mouth. I am still your father. |
| Michael Panofsky: | Yeah, I know. There's nothing I can do about that. |
| | |
| --- | --- |
| Miriam Grant-Panofsky: | If you can't at least be civil to my friends, don't join us. |
| | |
| --- | --- |
| Clara: | Barney, you really do wear your heart on your sleeve. Now put it away. It's disgusting to look at. |
| | |
| --- | --- |
| Barney Panofsky: | "you look like a king,a fucking king" |
| Barney Panofsky: | You look like a king, a fucking king. |