Barocco
(1976)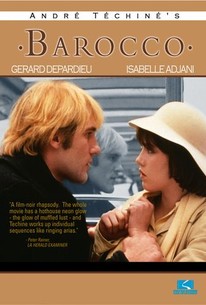 AUDIENCE SCORE
Critic Consensus: No consensus yet.
Movie Info
Former film critic André Téchiné directed and co-wrote this offbeat crime drama. Samson (Gérard Depardieu) is a down-on-his-luck boxer who manages to win a fortune thanks to a fixed fight. However, while Samson and his girlfriend Laure (Isabelle Adjani) are trying to get away with the money, he is killed by a gunman who looks just like Samson (and is also played by Depardieu). Laure is crushed, but in time she finds herself attracted to Samson's murderous double; he is also drawn to her, and they eventually become lovers. The supporting cast includes Marie-France Pisier and Jean-Claude Brialy.
Critic Reviews for Barocco
Audience Reviews for Barocco
½
[font=Century Gothic]"Barocco" is a politcal thriller about Samson(Gerard Depardieu), a former boxer, who is in love with Laure(Isabelle Adjani). To escape their lives of desperation, Samson has agreed to do an interview for a large sum of money with a local newspaper that will adversely affect one of the candidates in a bitterly contested political race. Then, for another sum of money, he agrees to keep quiet for the other side. Needless to say, this attitude is not going to make a lot of people happy. Samson is intercepted at the train station, just as he and Laure are about to make a break for it...[/font] [font=Century Gothic][/font] [font=Century Gothic]As I've said before, I don't mind a movie that hits the ground running, just as long I know what's going on. It is even more true in "Barocco", where it feels like the first twenty minutes have been cut out of the film and we are left trying to decipher who all of the characters are. (If it had focused purely on the young couple, it might have just worked.) And in a complex story as this, we need all the help we can get. Depardieu playing two roles does not exactly help but he is rather amazing. But I do like how the sense of economic desperation is used as a backdrop.[/font]
Barocco Quotes
There are no approved quotes yet for this movie.