The Baron of Arizona
(1950)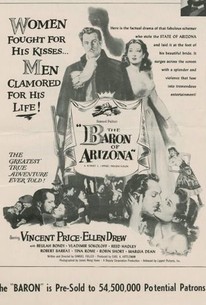 Movie Info
Samuel Fuller wrote and directed this lively drama based on the real-life adventures of James Addison Reavis, one of the most ambitious swindlers of the 19th Century. In 1871, Reavis (played by Vincent Price) began hatching an elaborate scheme to claim the Arizona territory (then three decades away from statehood) as his own. At the time, land grants established during Spanish rule of Arizona were still valid, and one rainy evening Reavis visited Pepito Peralta (Vladimir Sokoloff) and his daughter Sofia (Karen Kester) with some exciting news. While working as a real estate clerk, Reavis found documents which granted ownership of nearly the whole of the Arizona territory to one Miguel Peralta, who was named Baron of the new land by Spain's rulers, and as his heir Sofia will become Baroness when she reaches adulthood, giving her claim to the territory. After giving Pepito and Sofia money and hiring a governess (Beulah Bondi) to educate the girl in a manner befitting the Barony, Reavis sailed for Spain on business; unknown to the Peraltas, Reavis posed first as a monk and then as a gypsy in order to revise old land grant documents to conform with his story. Several years later, Reavis returned to Pepito and Sofia's home, and asked the young woman (now played by Ellen Drew) to marry him. Once wed, Reavis presented his carefully forged paperwork to the Arizona authorities which gave him and his bride royal claim to the land; however, not everyone believed Reavis's elaborate tale, and John Griff (Reed Hadley), an expert in falsified documents, was brought in to examine the evidence. The Baron of Arizona gave Vincent Price a rare leading role in a non-horror vehicle, and he cited it as one of his favorite performances on film.
Critic Reviews for The Baron of Arizona
Audience Reviews for The Baron of Arizona
Interesting because it's based on a true story. Sam Fuller delivers one his calmest pictures.
Ken Stachnik
Super Reviewer
It's a pretty far fetched story, but it is said to be based on a real story, which is really incredible. This movie is dramatic, romantic, exciting, and humorous. I loved Price in this movie.
somewhat exaggerated account of the notorious conman who used forged spanish land grants and even an orphaned girl to try to gain control of a large part of arizona territory. pretty interesting tale of the wild and woolly days of the old west http://en.wikipedia.org/wiki/James_Reavis
Stella Dallas
Super Reviewer
The Baron of Arizona Quotes
There are no approved quotes yet for this movie.