The Barretts of Wimpole Street
(1934)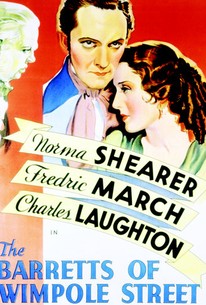 The Barretts of Wimpole Street Photos
Movie Info
Based on a successful stage drama, this historical romance stars Norma Shearer as Elizabeth Barrett, an invalid largely confined to her bed. Elizabeth has little company beyond her dog and her obsessively protective father, Edward Moulton Barrett (Charles Laughton). Her one great passion and means of emotional escape is writing poetry, to which she devotes a large part of her days. She makes the acquaintance of fellow poet Robert Browning (Fredric March), who pays her a visit. They respect each others' literary abilities and become romantically attracted to each other. Robert asks for Elizabeth's hand in marriage, but Edward refuses to allow it. Elizabeth must battle her father for the right to live her own life, but eventually she is able to wed Robert and bring herself back to health. Director Sidney A. Franklin also helmed a remake of The Barretts of Wimpole Street (1957); it was his last film.
Critic Reviews for The Barretts of Wimpole Street
Audience Reviews for The Barretts of Wimpole Street
½
The love story between Robert Browning and Elizabeth Barrett is legendary, and her 'Sonnets from the Portuguese' contains some of the beautiful love poetry ever written. They were both already established poets when they began corresponding, but she was an invalid, and had doubts and insecurities that he helped overcome with steady, persistent, genuine love. What I had forgotten about their story was how poorly her father behaved towards her and the rest of his children, and this movie really shows us that, in what appears to be a pretty accurate way. Charles Laughton is brilliant as the overbearing, controlling, overprotective, borderline incestuous Mr. Barrett, father of 12, whose wife had passed away, and whose own frustrations in love had led him to forbid his children to marry. He's hard to watch at times, but certainly gives the best performance, and the movie is probably more about his inability to let his children go - indeed, he disinherited each one who married - than it is about the extraordinary love between Robert and Elizabeth, though Frederic March and Norma Shearer do have some tender scenes. I enjoyed watching it, but I suppose that's the reason I didn't give a higher rating. How much better would it have been had they incorporated even more of their relationship, and some of their letters and poetry. The movie would be remade 23 years later by the same director, Sidney Franklin, and would be a great choice to be remade (with script changes) again today.
Antonius Block
Super Reviewer
A bit on the melodramatic side but I think this was the time period that created the melodrama. Fredric March is seemingly in every film as the leading man and here he performs his duty and gets his maid.
John Ballantine
Super Reviewer
The Barretts of Wimpole Street Quotes
There are no approved quotes yet for this movie.