Barry Munday
(2010)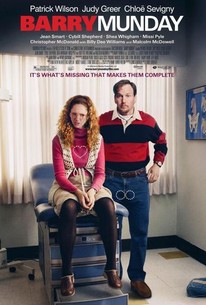 Movie Info
Barry Munday, a suburban wanna-be ladies man, wakes up in the hospital after being attacked in a movie theater, only to realize that he is missing one of his most prized possessions... his testicles. To make matters worse, Barry learns he's facing a paternity lawsuit filed by a woman he can't remember having sex with. With this being Barry's last chance to ever be a father, Barry reaches out and embraces the journey of parenthood and the onslaught of bumps that face him along the way. Filled with an ensemble of unusual characters, "Barry Munday" is the surprisingly heart-warming tale of a guy who finds it took losing his manhood to be a better man.-- (C) Official Site
News & Interviews for Barry Munday
Critic Reviews for Barry Munday
Audience Reviews for Barry Munday
½
Barry Munday: I don't think it's fair to use my biological disadvantages against me.  "It's What's Missing That Makes Them Complete" I must admit from the beginning that I have a soft spot for Indie Comedies like Barry Munday. I often find myself liking movies, like Barry Munday, that others find no value in. So I did like Barry Munday, but that should not be taken as a recommendation. I would never recommend movies like this to people, because honestly, most people won't like it. I understand that Independent Comedies appeal to a very small base of people. One of which is me.  Barry Munday is the name of our lead character. At the beginning of the movie, we are introduced to Barry, as he lays in a hospital bed. His narration tells us that he has lost his testicles. In the following scenes(which go back before the accident), we are shown that Barry is a womanizer, that will do anything for sex. After he gets out of the hospital, he gets a letter from a woman's attorney notifying him that he has impregnated said woman, and he doesn't remember her. That's the setup to the movie, and yes, it is as odd as it sounds. I can honestly say this is the first movie I have seen where the lead character has lost his nuts. Surprisingly, writer-director Chris D'Arienzo doesn't hammer the no nuts comedy to death, which was something I sort of expected. His script actually ended up being a lot smarter than I could have ever expected. I also really liked the cast, which was led by Patrick Wilson and Judy Greer. Wilson gives a good performance as Barry and Greer is hilarious as Ginger. Other notables in the cast are the legendary Malcolm McDowell, the beautiful Chloë Sevigny, and Billy Dee Williams. None of the three have big roles, as the movie is really left in the hands of Wilson and Greer, but when they are on screen they really add to the film.  So, Barry Munday was a film I really enjoyed from start to finish. I found the movie to be funny and just smart enough to make it better than the everyday comedy. The indie feel that I love so much made for an even getter experience. I can't say it is a great film or an important one or, for that matter, even one you should watch. What I can say, is that I enjoyed Barry Munday for what it was. If you find yourself liking those Independent Comedies that no one has seen; give this a shot. If you don't find yourself liking movies like that; stick with movies like The Hangover.
Melvin White
Super Reviewer
½
A very sweet little indie-comedy. When I read the description, I figured that this would be a stupid comedy. I dont like stupid comedies. This is a sweet story about fatherhood, and how it makes some men take responsibility for their lives. It's also a love story without being sappy. Things don't have to happen perfectly to be happy.
Cynthia S.
Super Reviewer
½
Crass and crude this so called comedy wastes a good cast on a vulgar, poorly written script. Improves towards the end but by then it's too late.
Barry Munday Quotes
There are no approved quotes yet for this movie.