BASEketball
(1998)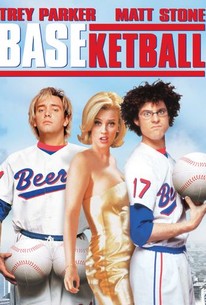 TOMATOMETER
AUDIENCE SCORE
Critic Consensus: Baseketball isn't just a succession of fouls thanks to the comedic zip of David Zucker's direction, but sophomoric gags and a lack of performance hustle by Trey Parker and Matt Stone makes this satire a clumsy bunt.
Movie Info
BASEketball tells the tale of three slackers who make up a new, pure and innocent sport in their driveway, only to find it turned into a major corporate and wildly popular professional league.
Critic Reviews for BASEketball
Audience Reviews for BASEketball
Back in the early days of man, the dark ages, pre-1997, there was no such thing as [i]South Park[/i]. Yes I know what you're all thinking right now, how could that be??!! How did people survive?? What did they do with themselves?? What's wrong with some good old fashioned Morris dancing? Is how I would have replied, but I digress. Twas the surprising success of the Colorado set animated TV show that gave both Trey Parker and Matt Stone the chance to let loose in crazy ventures such as 'BASEketball'. Apparently the actual game of BASEketball was the brainchild of this movies director, David Zucker. Is this true? Who knows, moving on. The plot consists of two 23 year old unemployed losers, Coop (Trey Parker) and Remer (Stone), who seem to have generally failed in life thus far. In their own words they mainly sit around all day drinking beer and playing Nintendo. One night they crash a party being hosted by a sexy former high school classmate and end up challenging two jocks to a game of two-on-two basketball. But in order to humiliate and ultimately beat the jocks (who are both very good at basketball), the duo quickly invent their own game rules on the fly (a combination of baseball and basketball). The guys win their stupid game but still lose the girls (ultimately not humiliating the jocks after all). Despite feeling rejected the duo decide to work on their new creation which appeared to work quite well all things considered. Over the next six months their idea morphs into a highly popular street game which attracts the attention of businessman Ted Denslow (Ernest Borgnine) who helps the guys turn the game into a major national sport, the National BASEketball League (NBL). Its from this point on things go from bad to worse as the duo find themselves disagreeing on things such as the monetisation of the sport, sexy women, best friends, child labour, and of course fame. All the usual things because money is the source of all evil and leads to unhappiness, greed, and all that jazz. So obviously this movie was nothing more than a vehicle for the [i]South Park[/i] duo to cash in on said TV show because said TV show was, at the time, becoming incredibly popular...bordering on massively popular (if it wasn't already at that point). So it was clearly time for a studio to get these guys involved in something in order to mine that precious moolah. The movie has absolutely nothing to do with their animated show but its as you can imagine a lot of the humour does fall in line with said Colorado based animated show. Add to that the very popular and classic spoof humour of Zucker ('The Naked Gun', 'Airplane' etc...) and you do have the possibility for comedic gold. Do you actually get comedic gold though? Well yes and no, its kinda sporadic. The movie has many highs and lows which can either make you cringe or laugh out loud, its very...umm sporadic. Of course the movie being 20 years old doesn't help too much with much of the humour (some of it is terribly 90's). But a true classic comedy should stand the test of time really so I guess you can say this isn't up to that standard (it definitely isn't). So essentially what you have (as I'm sure you can guess) is across the board infantile frat-boy style humour mixed with some equally crass and silly spoofery. Most of the humour does indeed surround typical things like hot girls, beer, bowel movements, sexuality etc...At the national league games the cheerleaders are essentially strippers clad in different attire depending on the game night theme...or sometimes they are just strippers. The game night themes are themselves utterly bizarre and actually quite amusing at times. For example there is dozen egg night, free range chicken night, and probe night. On these nights the crowds usually partake in the theme, so on free range chicken night the fans bring in their own chickens to the game. The typical Zucker humour tends to creep into the background strategically. Whilst two characters discuss the plot in the foreground, in the background a groundsman casually pushes along a huge vacuum machine that sucks up loose chickens on the field. And no one bats an eye. The game teams are all ridiculous and in some cases now offensive. For example Coop and Remer play for [i]The Beers[/i], because no comedy is complete without mindless predictable beer gags. Then there is the San Francisco all male team [i]The Ferries[/i] who dress in pink and have buffed up male strippers for their cheerleaders. The New Jersey team are called [i]The Informants[/i]...bada bing! The LA team are the [i]LA Riots[/i]...ahem! There is a team from Roswell which are of course based on Area 51 and aliens (ugh!). There is a Latino team which is based around crime and finally a Texas team chock full of redneck cowboy types. So yeah, mostly offensive stereotypes which would cause a shitstorm these days. One of the movies small highlights is of course Trey Parker doing what appears to be his best Rik Mayall impressions (complete with wacky blonde hair). For instance in the games players are allowed to try and distract their opposition whilst they take shots. This leads to some pretty ingenious bits of visual comedy. We see Cooper pretend to cut off a finger complete with squirting fake blood. Cooper also munches on silver foil. Remer squirts milk from his nipples whilst asking [i]'got milk?'[/i]. The pair constantly mock and berate their smaller teammate Squeak (Dian Bachar) using him as a way to unhinge the opposition; something which at times is funny whilst at other times far too predictable. And at one point Cooper even unleashes Eric Cartman's voice to attack a player. Parker is clearly the more energetic and amusing cast member to watch. He seems much more comfortable in front of the camera hence his visual antics and quips do tend to come across more, dare I say professionally, than Stone. Its the little touches that make you smile such as Coop getting annoyed and simply letting out a frustrated 'awww' every time; something that he exaggerates more and more throughout. His one in-game drunken stupor was also a small highlight. Falling asleep at the mount, running whilst still hungover bloated with alcohol, and letting down little Joey who wanted Coop to hit some homers (or whatever they were called). Then there's the happy dance, whenever Coop gets [b]really[/b] angry Remer makes him to a little jig whilst singing [i]'I'm doing the happy dance, I'm doing the happy dance'[/i]. Its utterly stupid but the fact it clearly makes Coop happier is somehow amusing to watch. On the other hand Stone isn't really as good as Parker. He doesn't really have the same screen presence, he isn't as good with physical humour, and he doesn't have the ability to do any really funny voices. Overall it just kinda feels like Stone is there merely because he was part of the creation process behind [i]South Park[/i] and he has to be there otherwise it would seem unfair. Sure he can do some simple voices for certain characters but he's obviously better in the writing process. As for the rest of the cast it reads like a who's who of forgotten stars and wannabes. It kinda feels like they got certain older classic stars because they just needed the work and money. Or they just wanted to get involved in a 'hip new comedy' that's 'down with the kids' to stay relevant. Whilst other lesser known actors clearly just need anything they can get. The movie is also stuffed full of needless cameos which always comes across as a cheap ploy to lure in an audience and boost interest. At the same time it also dates the movie horribly, case in point, a specific NASCAR driver, some American sports commentators, and dated celebs like Victoria Silvstedt. Also despite the soundtrack being somewhat engaging it too does very little to help the hideous dating of this movie. Who remembers Scatman? In a sense I believe this movie is maybe supposed to mirror Parker and Stone's own early lives as they went from being losers bumming around, to losers with fame and fortune under their new-found creation. Of course I could be wrong because essentially this movie has no real plot, its merely a string of silly and offensive sequences tied together with some music and cameos. On one hand I do like the movie simply because of its sheer lack political correctness (twas before all that shit) which is always a breath of fresh air. Some of the things in this movie would [b]never[/b] be allowed these days, and that's fecking awesome. But on the other hand it is admittedly a pretty crap movie with crap acting, bad effects, a stupid plot, and tonnes of awkward cameos. In typical Parker and Stone manner the movie (like [i]South Park[/i]) is deliberately offensive. Its offensive for the sake of being offensive. But if that's your bag, if you're open to that kind of humour, then you may have a blast with this guff. If not then I'd advise you to stay away for fear of getting triggered.
Phil Hubbs
Super Reviewer
½
The creators of South Park trade their voice-over and production abilities for on-screen acting abilities, which makes BASEketball just as hysterical. The films cross-over script will be enjoyable for those who crave sports or comedy, but it's just downright gaudy of a film. 3.5/5
Eugene Bernabe
Super Reviewer
½
BASEketball is a pretty decent comedy that is pure mindless entertainment. To watch this film, you really need to empty your mind, and enjoy. Starring the creators of South Park, BASEketball is a sports film about a sport combining Baseball and Basketball. The film has some laughs throughout and it relies on crude, vulgar comedy to make the audience. If you're familiar with South Park, then this should be no surprise. This film is funny, but I felt it could have been much better than what it turned out to be. The jokes are offensive, but it manages to make you laugh, but the film did have potential of being something far better. I mean you get David Zucker direct the two guys who created South Park in a film and you're sure to get something very funny. As it stands, the film is worth watching, has some good laughs, but lacks something to really make it stand out. The film works well as a mindless Friday night viewing with friends but if you're looking for a great comedy, pass up on this one. This is a pure mindless comedy that has some crude humor, a so-so plot and decent acting. The film is nothing too special, but is a must see for fans of South Park. I found the film enjoyable, but thought it could have been much better too. As far as comedies go, BASEketball definitely does deliver, but lacks in some areas, and you realize that it could have been a better film. This had the potential of being a great film, but it ends up being a decent film. For what it is, it's an enjoyable, crazy ride that is sure to make you laugh if you're in the right state of mind.
BASEketball Quotes
| | |
| --- | --- |
| Joe Cooper: | I hear your sister is going out with SQUEAK! |
| | |
| --- | --- |
| Doug Remer: | Listen to me little bitch! You either go out there and make that shot or I'm gonna shove your head so far up your fuckin' ass, you'll have to wear yourself as a hat! |
| | |
| --- | --- |
| Joe Cooper: | Dr. Kaiser! We graduated high school with your daughter! |
| himself: | (Brittany's dad) You graduated? |
| Joe Cooper: | Haha, of course we graduated! 8cough* cock *cough* beer? |
| | |
| --- | --- |
| Doug Remer: | Coop, do you know what you're doing? |
| Joe Cooper: | What's it look like? |