Basic
(2003)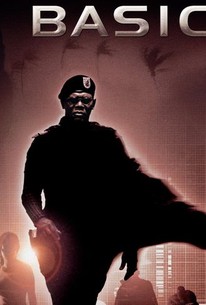 Movie Info
Tom Hardy, an ex-Army Ranger turned DEA agent, is drawn into an ever-widening mystery surrounding the disappearance of the feared and often hated Sgt. Nathan West, as well as several of his elite Special Forces trainees on what appears, at first, to have been a routine training exercise during a hurricane in the jungles of Panama. Only two survivors are found, Dunbar, and a badly wounded Kendall, the son of a high-profile Joint Chiefs of Staff official. Neither is willing to cooperate with Capt. Julia Osborne's investigation. So base commander Col. Bill Styles calls in ex-Ranger Hardy, an old friend and a persuasive interrogator. Osborne disapproves of Hardy who is on leave from the D.E.A. after having come under suspicion of accepting bribes from local drug traffickers. She is also uneasy when she learns that Hardy once trained under West and hates him almost as passionately as his current recruits. With time running out, Hardy and Osborne call a temporary, if uneasy, truce. Hardy cajoles a confession out of Dunbar, who claims that Sgt. West and the missing Rangers have been murdered and their bodies blown away by the hurricane. When they later interview Kendall, he confirms that the other Rangers and West are dead. But, in almost every other way, his story contradicts Dunbar's. What happened to West and his Ranger team? And what were they really doing out there in the jungle? As each layer reveals more lies and greater deceptions, Hardy and Osborne inch towards the horrible truth about the fate of the missing Rangers.
News & Interviews for Basic
Audience Reviews for Basic
½
"Basic was a good movie with a lot of twists. Everytime I thought I had it figured out it changed on me again. It was surprising right down to the ending credits. The movie is about the murder of Sgt. Nathan and most of his squad. The suspects are the rest of his squad that came back alive. Agent Tom Hardy is called in to investigate the murder with the help of Captain Juila Osborne. They don't really hit it off since Capt. Osborne believes she is more than capable of doing the investigation on her own. The story continues to change as the mystery of what happened to Sgt. West is unraveled. The film has a pretty decent cast with a great performance from Travolta. I would see this one again."
♥˩ƳИИ ƜѲѲƉƧ♥
Super Reviewer
Full of twists and turns, but none of them particularly exciting, it's almost a film that tries too hard, the filming, I felt was a little too dark, visually speaking. Watchable, but easily forgettable.
Lady D'arbanville
Super Reviewer
½
The movie was alright, but I wish they'd not pulled out the oldest story from the book for the ending. As if this weren't enough, its predictable twist is followed by several unpredictable twists. Now, this might be a positive point for some, but it turned me off. Besides being totally unnecessary, these twists were utterly nonsensical and ruin the ending of the movie. I'd have rather liked the movie as a thriller than as a suspense. Had it ended right before that predictable twist, I guess I'd have liked the movie more.
familiar stranger
Super Reviewer
Basic Quotes
| | |
| --- | --- |
| Col. Bill Styles: | This is about quality of life. |
| | |
| --- | --- |
| Vilmer: | If it's on tape, it has to be true. |
| | |
| --- | --- |
| Agent Tom Hardy: | You don't drink beer? Who doesn't drink beer? |
| | |
| --- | --- |
| Agent Tom Hardy: | You can still eat in front of someone and not talk. My parents did it for years. |