Basic Instinct
(1992)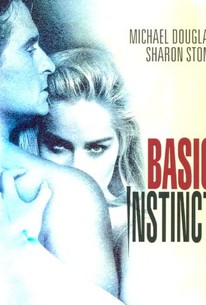 TOMATOMETER
AUDIENCE SCORE
Critic Consensus: Unevenly echoing the work of Alfred Hitchcock, Basic Instinct contains a star-making performance from Sharon Stone but is ultimately undone by its problematic, overly lurid plot.
Movie Info
Michael Douglas stars with red-hot Sharon Stone in this groundbreaking and controversial film that redefined the genre of the sexy thriller.
News & Interviews for Basic Instinct
Critic Reviews for Basic Instinct
Audience Reviews for Basic Instinct
Took me till 2016 to finally see this. Not as shocking or sleazy as expected. Aside from the scene everyone talks about. Actually a bit dull. Sliver was better tacky 90's viewing.
Nicki Marie
Super Reviewer
"Basic Instinct" is the type of interesting film that is both insane and calm at the same time. If you are watching anyone besides Michael Douglas on screen, they seem almost as if nothing has happened. As the opening scene of the film shows a very sexual murder, the remainder is about trying to put together the pieces as to who actually killed this man. It may not be a perfect movie, due to the predictability, but it sure has you guessing. I really enjoyed watching this film and I almost came to love it, until the final shot of the film. The last shot throws the entire film through a loop and makes everything confusing. This is a great film at it's core, but sometimes falls flat. Still, I loved watching it.
If I'm not mistaken, this is probably the gold standard of erotic thrillers. It's a stylish, lurid romp that owes a fair debt to Hitchcock, but due to just how graphic and sleazy it gets sometimes, the film really has far more in common with the works of Hitch devotee Brian De Palma more than anything. Nick Curran is a troubled cop with a troubled past whose latest murder investigation leads him to Catherine Tramell- a lovely bisexual author of sleazy pulp who is the prime suspect because her lover is the victim, and was killed in a fashion basically verbatim from a scene from one of her novels. Nick makes the questionable decision to begin a torrid affair with Tramell, as he is really unsure if she's truly the suspect, but also because she's just too alluring to ignore, no matter how much danger could be involved. The film really tows the line between exploitative sleaze and actual cinematic merit. It's not always balanced, as the plot often gets cast aside for sex and violence, but the film is certainly nothing if not intensely memorable. The look is great, the score is phenomenal, the performances are quite solid, especially from Stone as Tramell, and, if you watch the director's cut, the film really delivers the goods where the violence and lust are concerned. This sort of thing is generally Z-Grade schlock, but I found the treatment of the material here to be surprisingly solid and entertaining. It's no masterpiece of course, but it's certainly a highlight on the B-List of Verhoeven's filmography.
Chris Weber
Super Reviewer
Basic Instinct Quotes
There are no approved quotes yet for this movie.