Basket Case 2
(1990)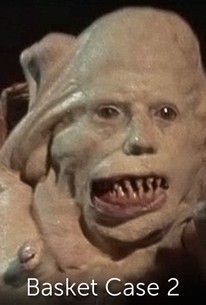 Movie Info
Apparently not dead as the ending of the first Basket Case movie led viewers to believe, the Bradley brothers, those severed Siamese twin brothers--one normal, the other the malformed " basket case,"--are back in business in this sequel. Here they escape their hospital confinement and head to a local freak house where they hope to live happily ever after. Unfortunately they're tracked by a tabloid reporter who's after the scoop of the decade. This is unabashedly violent and wackoed fanfare made only for aficionados of depraved and disgusting drivel. Apparently there are enough of these viewers to warrant this follow-up film!
Critic Reviews for Basket Case 2
Audience Reviews for Basket Case 2
½
Considering this is a sequel to awesome Basket Case directed by Frank Henenlotter, you'd expect something great, right? Well the results for this film are mixed. The film does have the weirdness you'd expect from the first film. The plot of the film is even more ridiculous than the first, as Belial seeks true love. Just by saying that, you may ask yourself are you serious? I really am. In the world of Henenlotter's Basket Case, anything weird and bizarre can happen, often with very humorous results. Its predecessor was great; the first was original, fun and also disgusting and disturbing. That's what made the first Basket Case film so enjoyable. In this sequel, Henenlotter decided to take a more humorous path, as the first one was a bit nasty and dark. What we have here with Basket Case 2 is a more slapstick vision of Basket Case. The sequel is sillier than the first, but it has something that makes it very good. In terms of low budget horror films, especially sequels, the Basket Case movies are one of a kind and prove that Frank Henenlotter is one of the most eccentric, original and creative minds in the genre. This follow-up may be less thought out, but it takes a risk, and it delivers a unique, twisted and grotesque picture that is sure to entertain the most demanding horror fan. I very much enjoyed the film and thought it was one of the better sequels ever filmed in the genre. This is definitely a sequel you can't easily dismiss, and I won't reveal the ending, but I'll say that in pure Henenlotter fashion, it's weird and above all it's a hoot. A terrific ending!
After really enjoying Frankenhooker I thought I'd give the Basketcase trilogy another shot, and have to say my main complaints about the first one carry right over to this one. It's too silly to really be scary, but not funny enough to truly carry itself based soley on it's humour. Not to say there isn't funny portions here and there. The Opera singing freak was funny. So was the scene where the freaks arbitrarily where masks to "hide" their deformities and the stupid cop actually falls for it. And the sex scene between Blial and his lady friend were funny too I suppose. But a couple laughs isn't enough to raise this beyond the level of mediocrity I still associate this series with. It's not that I don't like these movies, I just don't think their great. Good for a couple laughs I suppose, but not funny enough to demand repeat viewings. Ah well, now I guess I HAVE to watch Basketcase 3 at some point. Won't be in a rush, but will get around to it eventually.
Ed Fucking Harris
Super Reviewer
½
In which the brothers find themselves in a sanctuary for freaks. Belial falls in love, while Duane goes insane.
Marcus Woolcott
Super Reviewer
Basket Case 2 Quotes
There are no approved quotes yet for this movie.