Basquiat
(1996)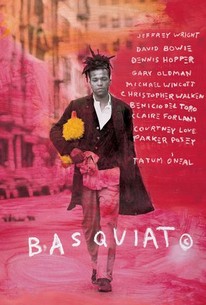 Movie Info
Jeffrey Wright is superb in this biopic as Jean-Michel Basquiat, the artist who rose from homelessness to fame and fortune, only to die of a drug overdose at age 27. Writer-director Julian Schnabel, who is also an artist, vividly re-creates the 1980s New York art scene from firsthand experience.
Critic Reviews for Basquiat
Audience Reviews for Basquiat
½
Modern artist Jean-Michel Basquiat rises to fame with the help of Andy Warhol. This film bolsters its indie kudos by including cameos from about every actor on the indie scene at the time, including Christopher Walken, Tatum O'Neal, Courtney Love, and Parker Posey. However, though the names in the cast are as good as they get, the film is not. There are so many unanswered questions, like what is it that makes Basquiat's art unique. We see many people praising his work, but the work doesn't speak for itself, like Jackson Pollock for example, and there aren't any moments that allow us to see what cultural or artistic vein Basquiat has tapped into. Thus, his insouciance toward the artistic process reminds me of Thierry Guetta from Exit through the Gift Shop, who emerges from that film looking like a first-class douche. Also, what could a beautiful, seemingly intelligent woman like Gina see in Basquiat? Their courtship and the end of their relationships are glossed over, and it seems like the brilliant Claire Forlani is under-used simply to fill the role of the supportive girlfriend that all films like this are required to have. David Bowie's performance as Andy Warhol is a tired caricature; I longed to see the musician tapped out by Guy Pearce -- let a real actor take the part. Overall, I liked the beginning, the first ten minutes or so, but the rest of the film leaves me knowing nothing new about Basquiat or why I should care. Post-Script: the design of the Diet Pepsi can in the film didn't come out until after the film's events took place.
Jim Hunter
Super Reviewer
½
To most people Basquiat was a man who painted and shit. To me, he was just some guy who went to college for a few weeks and learned that its fun to fuck up his current girlfriend's life by painting his important art on their not important purses, dresses, and even sometimes on a canvas like other more typical artists tend to paint on. in conclusion, may basquait be remembered as the tolerable artist he was, as a man who was in a band with Vincent Gallo for six days, and a man with no respect for the countless banks, restaurants, and record stores that he loved to spraypaint his trademark "Fuck off, corporations!" message on as he "shot himself up" into fame's dirty veins.
Coxxie Mild Sauce
Super Reviewer
Thi s Movie was about Jean Michel Basquiat who was a black artist who became friends with the famous Andy Warhol. Jean died at 27 from a herion overdose, this movie shows where he came from and the sucess he achived. Jean like Andy was way out there, but being way out there isn't bad, it's to bad more of us are not way out there. Most will not enjoy this movie, but I sure did. The music tracks were faboulus. Andy Warhol was played by David Bowie. Its a great movie give it a try.
Bruce Bruce
Super Reviewer
Basquiat Quotes
| | |
| --- | --- |
| Rene Ricard: | Everybody wants to get on the Van Gogh boat. There's no trip so horrible that someone won't take it. The idea of the unrecognized genius slaving away in a garot is deliciously foolish one. We must credit the life of Vincent Van Gogh for really sending this myth into orbit. I mean, how many pictures did he sell, one? He couldn't give them away. He has to be the most modern artist, but everybody hated him. He was so ashamed of his life that the rest of our history will be contribution to Van Gogh's neglect. No one wants to be part of a generation that ignores another like Van Gogh. In this town, one is at the mercy of the recognition factor. One's public appearance is absolute. Part of the artist's job is to get the work where I will see it. I consider myself a metaphor on the public. |