Bastard out of Carolina
(1996)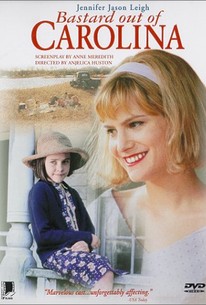 Bastard out of Carolina Photos
Movie Info
Accomplished actress Anjelica Huston, daughter of John Huston, made her directorial debut with this absorbing, often wrenching story of child abuse in the 1950s American South. Based on a novel by Dorothy Allison, the film (narrated by Laura Dern) tells the tale of Bone (Jena Malone), a poor white girl so named because she was born right after her mother survived a terrifying car crash. While Bone is still a small child, her single mother, Anney (Jennifer Jason Leigh), meets and marries the sweet Lyle (Dermot Mulroney), and the two add another daughter to the family before Lyle dies in an auto accident. Anney is next courted by the less good-natured Glen (Ron Eldard), who takes out his rage on Bone both physically and sexually, as Bone becomes even more disillusioned at her mother's inability to get away from her monstrous husband. Set in South Carolina in the late 1940s and early 1950s, Bastard Out Of Carolina touches on many aspects of life, family, and hardship amidst the poor white of the South. TNT owner Ted Turner refused to air the film, ostensibly because of its difficult subject matter, but the film goes out of its way to handle its material with as little exploitation as possible.
Critic Reviews for Bastard out of Carolina
All Critics (9) | Fresh (9) | Rotten (0)
Stunning!
January 10, 2006 | Rating: 4/5
An abused young girl finds sanctuary in the care of the women of her extended family.
searing domestic drama that will leave you aching
July 29, 2002 | Rating: 4/5
Audience Reviews for Bastard out of Carolina
½
This was a hard movie to watch. It sickened me. Jena Malone, was insanely good in this movie. It had to be hard for her to portray certain parts in this movie at such a young age. She was just amazing in this movie. It is a heart wrenching movie about a young girl who is sexually abused by her mothers boyfriend. Her mother is an awful piece of work. I wanted to go through the screen and physically harm her. I was just so disgusted with her and the way she treated her daughter. All of the actors all acted their parts well. Its just an awfully good movie that will have you going through a lot of emotions. I know I went through a lot watching it. It's not a film you can watch over and over again, but it is one that you would watch every once in a great while just on the story and the powerful acting. It is a movie that should be seen by all. A must see.
♥˩ƳИИ ƜѲѲƉƧ♥
Super Reviewer
½
Haven't read the book but I feel that this is not a good adaptation & the film feels rushed, If you're planning to see this be prepared for its difficult subject matter & some really disturbing scenes
Bastard out of Carolina Quotes
| | |
| --- | --- |
| Glen: | It's my one day off, and you gotta tear around here? Now just, just cool it, kid. You're a girl, not a racehorse. |
| Bone: | (mimicking him) You're a girl, not a racehorse. |
| Bone: | You're a girl, not a racehorse. |
| Glen: | You little bitch! You little bitch! Come here! |
| | |
| --- | --- |
| Glen: | I want you to try to be reasonable, girl. I want you to tell your mama. I want you to stop all this nonsense, before you make me really mad |
| Bone: | I'd rather die than go back livin' with you! |
| | |
| --- | --- |
| Glen: | I talked to Annie, you know, and she's comin' back. She promised. She said that she needs a little more time, time to make it up to you. She loves you more than I can understand. You know what your mama told me? She's not comin' home until you come home too. You're gonna have to tell her it's all right. You're gonna have to tell her that we'll be together, again? |
| Bone: | No. I don't wanna live with you no more. I told mama that she can go back. I told her that she could. But I can't. I won't. |