Batman and Harley Quinn
(2017)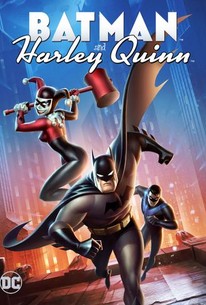 Batman and Harley Quinn Videos
Batman and Harley Quinn Photos
Movie Info
From an original story by animation icon Bruce Timm, comes an all-new DC Universe animated movie. Poison Ivy and Jason Woodrue (a.k.a. The Floronic Man) embark on an ecological quest to save the planet--and, unfortunately, eliminate most of humankind along the way. To save humanity, Batman and Nightwing are forced to enlist Harley Quinn to catch Poison Ivy, Harley's BFF and frequent partner-in-crime. But Batman's patience is put to the test by the unpredictable and untrustworthy Harley during the twists and turns the reluctant companions face during their bumpy road trip. The result is a thrill ride of action, adventure and comedy no Batman fan has seen before.
News & Interviews for Batman and Harley Quinn
Critic Reviews for Batman and Harley Quinn
Audience Reviews for Batman and Harley Quinn
WHO IS THIS FOR? Batman and Harley Quinn isn't just tonally inconsistent from act to act, it's tonally inconsistent from second to second. Wildly inappropriate for children, too crass and silly for adults. Obscure lore and reference only DC-familiars will pick up on, but also completely out of character moments and scenes that will never fly with that same crowd. Both is and isn't set in the cult-classic Batman: The Animated Series Universe? Goes to the effort of getting DC voice alum Paget Brewster and the most famous Batman voice of all time, Kevin Conroy, but is stuck with Annoying-In-The-Wrong-Way Melissa Rauch to play Harley, who has never voiced the character before, and hopefully never will again. But sadly, it's better than most animated superhero movies we're seeing these days.
Very uneven from start to finish, It had a dark tone at times then it flips round and all of a sudden there's fart jokes, Unfunny humour and campiness but just when you think it's aimed at kids there's Allot of casual sexism with Harley Quinn then there's an off camera sex scene and a few bad words thrown in too, So let your kids watch as all the humour is for them but it does have an adult tone at times too, The animation was abit lazy and the action scenes were not great and the ending was silly, Camp and annoying, It felt like it was written by a kid and his drunk, Horny dad, I expected so much more from this film but it's a huge letdown.
Jamie Clarke
Super Reviewer
Batman and Harley Quinn Quotes
There are no approved quotes yet for this movie.