Batman & Mr. Freeze: Subzero
(1998)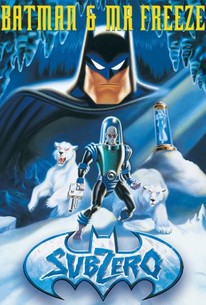 Batman & Mr. Freeze: Subzero Photos
Movie Info
This feature-length spin-off of Batman: The Animated Series follows the dynamic duo as they battle their ice cold, age old enemy, Mr. Freeze. In his latest nefarious plot, Mr. Freeze has abducted Batgirl as the organ donor needed for a deadly experiment meant to reanimate his old wife, who, until her cryogenic chamber was shattered, had been frozen until a cure was found for her otherwise terminal heart disease. Unless Batman and Robin can rescue her on time, Batgirl will lose her life in a highly illegal heart transplant operation. Featured voices include Kevin Conroy as Batman and Michael Ansara as the infamously monotone Mr. Freeze.
Critic Reviews for Batman & Mr. Freeze: Subzero
Audience Reviews for Batman & Mr. Freeze: Subzero
I've never been very interested in the Batman villain Mr. Freeze, but I want to see every Batman movie I can, so I saw this one, and it's not that great. It's not freezing, it's luke warm.
Mr. Freeze This is another Great Batman cartoon and for all the same reasons the storyline is good it has lots of action in it the cartoon effects are good the voice over actors are good such as Kevin Conroy as Batman, Efrem Zimbalist Jr. as Alfred, Loren Lester as Richard "Dick" Grayson etc. The villain is good Michael ansara as Mr. Freeze. So i am sure you will not be disappointed with Batman and Mr. Freeze Subzero because it is a really good movie. Victor Fries, aka Mr. Freeze, has found a home - the Arctic Circle, where he can live as a normal man can live in the tropics, and where his wife Nora remains in cryogenic suspension pending Victor's discovery of a cure for the illness that will take her life should she be freed too soon. However, a submarine on a scientific expedition surfaces through the ice of Fries' cave home, destroying the area - and breeching the seals on Nora Fries' cryo-chamber. In desperation, Victor dons the frigid battlesuit of Mr. Freeze to find the one doctor who can save Nora's life, but the doctor needs an organ transplant to pull off the operation. He finds a donor with the right blood type - Barbara Gordon, whose relationship with Dick Grayson is becoming more serious. When Barbara is kidnapped, Grayson and Bruce Wayne don their famous crime fighter costumes to track down Barbara and Freeze, and along the way learn the full story of Nora Fries' desperate predicament.
A great follow up to Mask of the Phantasm. The Mr. Freeze storyline was well done and compelling. While it does have some campy elements, it's a movie targeted for a younger audience. However, it is a great animated movie. The voice talent of Kevin Conroy is dead on to Batman.
Conner Rainwater
Super Reviewer
Batman & Mr. Freeze: Subzero Quotes
There are no approved quotes yet for this movie.