Batman: Bad Blood
(2016)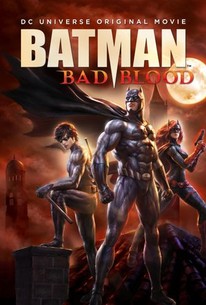 Movie Info
Bruce Wayne and his alter ego Batman go missing, so Batwoman undertakes a search while Robin and Nightwing patrol Gotham for Batman and Alfred substitutes for Bruce.
Critic Reviews for Batman: Bad Blood
Audience Reviews for Batman: Bad Blood
½
Pretty decent Batman animation, Quite violent and full of action, A good story that most other Batman films miss, Kids will enjoy it if you let them watch it, One of the better animated films for Batman.
Jamie Clarke
Super Reviewer
½
The Son of Batman saga continues to be absolutely soulless in this most recent entry: "Bad Blood". DC has brought out many fantastic animated films, unfortunately they haven't done so since 2013's "Flashpoint Paradox", and this movie has not broken that trend. I love Batman and am glad to see them bringing characters like Batwoman in to features, but watching "Bad Blood" feels like a chore.
I feel the same about this that I have the past few animated Batman originals. It's solid and enjoyable, but doesn't really do anything new. The action is good, the voice acting is alright, and the plot is average for Batman. Damian Wayne has been in the past few original animated films and the character is getting more annoying each time. I wish they would do something with him other than have him say annoying lines and get in the way. Overall, if you like the Batman original animated movies this one is perfectly fine, but nothing to get excited about.
Josh Lewis
Super Reviewer
Batman: Bad Blood Quotes
There are no approved quotes yet for this movie.