Batman Begins
(2005)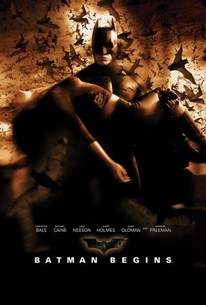 TOMATOMETER
AUDIENCE SCORE
Critic Consensus: Brooding and dark, but also exciting and smart, Batman Begins is a film that understands the essence of one of the definitive superheroes.
Movie Info
The origins of the Caped Crusader of Gotham City are finally brought to the big screen in this new adaptation of the perennially popular comic-book series. The young Bruce Wayne (Gus Lewis) leads a privileged life as the son of wealthy, philanthropist parents, both of whom stress their commitment to improving the lives of the citizens of crime-ridden Gotham City. After his mother and father are murdered by a mugger, however, Wayne grows into an impudent young man (Christian Bale), full of rage and bent on retribution until encouraged by his childhood sweetheart, Rachel Dawes (Katie Holmes), to search for answers beyond his own personal vendettas. Wayne eventually finds discipline in the Far East under the tutelage of Henri Ducard (Liam Neeson), a member of the mysterious League of Shadows who guides him in the study of martial arts -- and the ways in which an ordinary man can hone his senses to an almost superhuman acuity. After seven years away from Gotham, Wayne returns, determined to bring peace and safety back to the city. With the help of his faithful manservant, Alfred Pennyworth (Michael Caine), and Lucius Fox (Morgan Freeman), a scientist at his late father's corporation, Wayne develops a secret identity as Batman, a masked fighter for justice. But when a shady psychiatrist (Cillian Murphy) joins forces with the criminal underworld, Wayne realizes that putting an end to their nefarious plans will be very difficult indeed. Batman Begins also features Gary Oldman as Lt. James Gordon and Tom Wilkinson as the crime boss Carmine Falcone. ~ Mark Deming, Rovi
News & Interviews for Batman Begins
Critic Reviews for Batman Begins
Audience Reviews for Batman Begins
½
Hands down the best "reboot" movie of all time, this one has it all. Nolan takes great care in setting up the backstory of the Caped Crusader in the first half of the film. The second half kicks into overdrive and ends with a fantastic finish.
Graham Jones
Super Reviewer
½
The first chapter in the proposed "Dark Knight Trilogy" is dark, compelling, and articulate. Christopher Nolan's marvelous input to the origins of the Caped Crusader gives a good start to the trilogy. With a strong cast (Bale, Caine, Neesen, Freeman, Holmes & Oldman) along with an ominous plot, Batman Begins enthralls its audiences worldwide. 4.5/5
Eugene Bernabe
Super Reviewer
Christopher Nolan had already proved he could do characters and dialogue and in this latest reinvention of the classic comic book character, he proves emphatically that he can do action too. Taking cues from Tim Burton's previous attempt to bring the character back to its dark roots, Nolan's vision is so gritty and believable it makes Burton's film seem as comparatively camp as the Adam West TV series that preceded it. This origin story has no radioactive spiders or associated sillines; just an intelligent examination of a man's guilt and desire for revenge and the psychology of fear. This combined with unlimited resources that wealth can provide, Batman is born utilising some brilliant production design that not only looks fantastic, but also looks plausible. Bale was the perfect choice for the role, bringing a single-minded intensity to the character and is just as convincing in his pimpernel-esque role as billionaire playboy. The supporting cast of genuine actors including Michael Caine, Gary Oldman and Morgan Freeman add a lot of dramatic weight and the script is cleverly fleshed out. Possibly the only flaws are the fact that although Liam Neeson and Cillian Murphy are both great it lacks a focal villain (something obviously rectified quite spectacularly by Heath Ledger in the sequel) and Katie Holmes is a bit of a dead zone but these gripes are insignificant compared to Nolan's achievement in bringing Batman to believable life. For me, this is easily one of the best superhero movie ever made and it stands up handsomely to repeated viewings. A future classic.
Batman Begins Quotes
| | |
| --- | --- |
| Bruce Wayne/Batman: | It's not who I am underneath, but what I do that defines me. |
| | |
| --- | --- |
| Bruce Wayne/Batman: | It's not who I am underneath, but what I do that defines me. |
| | |
| --- | --- |
| Carmine Falcone: | What the hell are you? |
| Batman/Bruce Wayne: | I'm batman!! |
| | |
| --- | --- |
| Batman/Bruce Wayne: | It's not who I am underneath, but what I do that defines me. |