Batman Forever
(1995)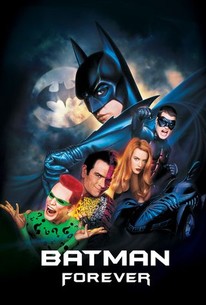 TOMATOMETER
AUDIENCE SCORE
Critic Consensus: Loud, excessively busy, and often boring, Batman Forever nonetheless has the charisma of Jim Carrey and Tommy Lee Jones to offer mild relief.
Movie Info
Director Joel Schumacher inherited the Batman franchise from Tim Burton and began steering it in the campier direction of the Sixties television show with this third installment. First-time Batman/Bruce Wayne (Val Kilmer), in his only outing as the Caped Crusader, is effectively brooding as he ponders strange dreams about his parents' death and escapes his own near-demise at the hands of Two-Face (Tommy Lee Jones), a former district attorney driven insane and turned into a master criminal when a gangster throws acid in his face. Meanwhile, as sexy psychologist Chase Meridian (Nicole Kidman) tries to analyze and seduce both Bruce Wayne and Batman, Wayne Enterprises employee Edward Nygma (Jim Carrey) reacts badly to getting fired, using his self-invented mind-energy device to transform into the super-intelligent Riddler. The Riddler teams up with Two-Face to bring down Batman and drain the minds of Gotham City residents with his device, while Batman gets some much-needed help in the form of circus performer Dick Grayson (Chris O'Donnell), out for vengeance after being orphaned by Two-Face. ~ Don Kaye, Rovi
Critic Reviews for Batman Forever
Audience Reviews for Batman Forever
½
With unbelievable dialogue, goofy action and ridiculous cartoonish characters, this softened Batman movie after Burton's installments is only embarrassing and laughable, with a pathetic story full of plot holes. Not even Tommy Lee Jones and Jim Carrey can save this nonsense.
Carlos Magalhães
Super Reviewer
½
Joel Schumacher does a solid job advancing the vision from Tim Burton's adaptation, but Batman Forever doesn't strike as much as the predecessors. Though Jim Carrey & Tommy Lee Jones' splendid enthusiasm hits, the less-than-entertaining action misses. 2.5/5
Eugene Bernabe
Super Reviewer
½
This was the first sign of a really bad direction the studios were going with Batman. There's a difference between paying tribute to a comic book and making a comic book into a movie. I know it's beating a dead horse but I put all the blame on Schumacher. I say that because with the outrageous direction the actors were given, all the actors did the best they could. Jim Carrey was the saving factor of this film and kept if from being a disaster. That is also why I put a little blame on him for what was to come...
Joshua Wilburn
Super Reviewer
Batman Forever Quotes
| | |
| --- | --- |
| Batman / Bruce Wayne: | I don't blend in at a family picnic. |
| | |
| --- | --- |
| Batman / Bruce Wayne: | We all wear masks. |
| | |
| --- | --- |
| Batman / Bruce Wayne: | Just like my parents. Its happening again... a monster comes out of the night, a scream, 2 shots.... I killed them. |
| Alfred Pennyworth: | What did you say? |
| Batman / Bruce Wayne: | He killed them, Two-Face. He slaughtered that boys parents. |
| Alfred Pennyworth: | No, no you said "I" "I killed them". |
| | |
| --- | --- |
| Dr. Chase Meridian: | My opinion? This letter writer is a total wacko. |
| Batman / Bruce Wayne: | Wacko? that a technical term? |
| Dr. Chase Meridian: | Patient may suffer from obsessional syndrome with potential homicidal tendencies. Does that work better for you? |
| Batman / Bruce Wayne: | So, what you're saying is, this guy's a total wacko? |