Batman: Gotham by Gaslight
(2018)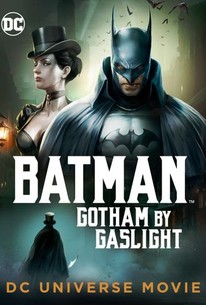 Batman: Gotham by Gaslight Photos
Movie Info
Set in the Victorian era, this animated remake of the graphic novel, Batman: Gotham by Gaslight pits the Dark Knight detective against the elusive serial killer, Jack the Ripper. Directed by Sam Liu and featuring the voices of Bruce Greenwood and Jennifer Carpenter as Bruce Wayne and Selina Kyle respectively.
Critic Reviews for Batman: Gotham by Gaslight
Audience Reviews for Batman: Gotham by Gaslight
My all-time favourite superhero film (Batman: The Dark Knight Returns) is an animated DC movie, so I'm always willing to give a chance to whatever they bring out in my never-ending search to find the next great one. Unfortunately, most end up being pretty poor offerings. But there's a decent number that end up somewhere in the middle, and Gotham by Gaslight is on the higher end of that spectrum in between. The voice acting offers nothing special. Stylistically, the animation leaves a lot to be desired (don't let that gorgeous poster fool you). But it's the story that's truly important, and here Gotham by Gaslight finds enough success in its Elseworld telling to come off with a win.
It's an interesting idea that works actually better than the original one: A guy in a bat suit running around at night scaring the criminal element in the Victorian Age. To spice the action, the case is against perhaps the preeminent Victorian villain, Jack the Ripper. By and large, the angle works and does so w/o a lot of time spent on the specifics of Bat-lore, and it was good to see a different take on the Bat w/o including the Joker, which gets to be a crutch DC overuses. They could do more of these.
Kevin M. Williams
Super Reviewer
One of them Batman comics I'm yet to read but I gave this a watch and enjoyed it more than I thought I would, The story was gripping and very different to what we're used to, It had some great action and the animation was good too, Maybe it's a little too dark for the younger kids but it's pretty good as far as animated films based on a comic.
Jamie Clarke
Super Reviewer
Batman: Gotham by Gaslight Quotes
There are no approved quotes yet for this movie.