Batman - Mystery of the Batwoman
(2003)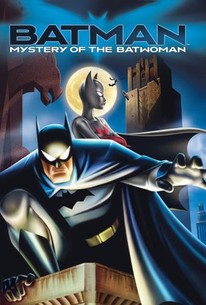 Batman - Mystery of the Batwoman Photos
Movie Info
Batwoman makes her grand entrance in the feature-length animated adventure Batman: Mystery of the Batwoman. While Batman tries to figure out the new crime fighter's secret identity, Batwoman exposes an arms smuggling operation conducted by the Penguin. Soon Batwoman is captured by Bane and Batman has to choose whether or not he can trust his new mysterious ally. Featuring the voices of Kelly Ripa, Kyra Sedgwick, and Hector Elizondo.
Critic Reviews for Batman - Mystery of the Batwoman
Audience Reviews for Batman - Mystery of the Batwoman
Good movie! Nice story and it was nice to see the penguin and Bane as villans. Recommended to all Batman fans. A ruthless destructive vigilante posing as Batwoman is wreaking havoc in Gotham City. While she sets her sights on thwarting Penguin's evil plans, Batman concentrates on discovering this mysterious imposter's true identity. But when she's captured by the vicious Bane, it falls upon the caped crusader to rescue her, defeat Bane and foil the Penguin's devious plot himself.
fantastic film from a fantastic series. this is easily one of my favorite cartoons ever if not my favorite, and the films based on the series are really well done. a lot of fun.
½
While it is nowhere near the same amount of effort that was put into the series, it is a fun movie none the less. It has all the same great voice acting from the show and animation style. The Batwoman story is interesting, I just felt it was a little on the corny side.
Conner Rainwater
Super Reviewer
Batman - Mystery of the Batwoman Quotes
| | |
| --- | --- |
| Bane: | I knew one day we would face each other, Batman. I prayed for it. |
| Batman/Bruce Wayne: | This ship is going down in less than a minute, Bane. |
| Bane: | That's all the time I need. |
| | |
| --- | --- |
| The Penguin: | Batman, Batgirl, Batwoman! What is it with this city, the water?! |
| The Penguin: | Batman, Batgirl, Batwoman! What is it with this city, the water? |
| | |
| --- | --- |
| Alfred Pennyworth: | I can see why Dennis the Menace is one step closer to juvenile hall. |
| | |
| --- | --- |
| Batman/Bruce Wayne: | The last thing Gotham needs is a vigilante running amuck. |
| Alfred Pennyworth: | As they say on the streets, I ain't touchin' that one. |