Batman Ninja
(2018)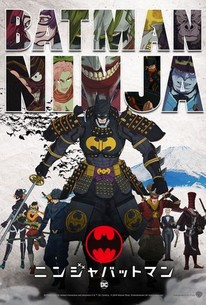 Movie Info
In this groundbreaking anime adaptation of the legendary Batman franchise, Gotham City is swapped out for feudal Japan, where Batman fights his infamous foes as an armored ninja. With Catwoman, Two-Face and the Joker all showing up to battle the Bat, will Bruce Wayne be able to save the day?
Critic Reviews for Batman Ninja
Audience Reviews for Batman Ninja
So I'm not up on my comics anymore, haven't been for donkey's years, so when I heard about this I kinda assumed it was based on some recent comicbook line, but no apparently its not. What we have here is exactly what it sounds like, an anime version of Batman. Its basically Batman set in feudal Japan. What would Batman look like in ancient Japan? What would Batman's enemies look like in ancient Japan? How would Batman go about his crime fighting business etc...Its essentially a massive fanboy wet dream project like say...a steampunk Batman, or a Batman set in space or the future, or Batman set in the age of pirates or ancient Rome etc... The plot seems to be a one-off affair that isn't linked to any previous works or anything coming up. Its literally appears to be a case of, Batman in Japan sounds cool, lets see how that turns out. And with that the plot is insanely off the wall, bizarre, crazy, barely coherent to say the least. Yes its set in feudal Japan, but for the most part this could simply be anywhere, it doesn't matter in the long run. Only the costumes remind you its Japan. But yeah, Gorilla Grodd is tired of all the other better Gotham villains hogging Batman all the time with their plots and getting in his way. So he decides to get rid of them all. So he builds some machine and sends them all back the feudal Japan...as you do. Naturally Batman gets caught up in this too (and somehow the entire Batman family of heroes, oh and some of his tech). So now old Bruce is stuck in feudal Japan without the cover of urban Gotham and with only a few of his gadgets. He finds himself up against Grodd, Joker, Penguin, Poison Ivy, Two-Face, Harley Quinn, Bane, and Deathstroke (no Riddler?). Luckily he does have Robin, Nightwing, Red Hood, Alfred, Catwoman, and a entire Batman ninja clan on his side so its not a one way street. The movie starts off in a suitably dark and stormy Gotham but soon zaps back through time to feudal Japan. Its at this point where the movie is still relatively grounded (well as grounded as one can be travelling back through time). Batman is out of his element, he's vulnerable without his gadgets and his urban jungle, anything could happen. The movie holds this grounded approach as Batman struggles to cope with his ancient surroundings, like being unable to escape grappling up a tall building. But slowly scene by scene things start to become more ridiculous as the plot unfolds. And when I say ridiculous, I mean giant transforming robot/mech fortresses fighting against a giant samurai shaped entity made up of monkeys, and then a giant Batman made up of bats. Plus there's the whole ninja bat clan thing, the fact Joker has machine guns, Alfred hiding the batmobile in a local hut (with underground lighting?), Penguin has his penguins, just all the tech on show etc... Nevertheless its when Batman appears in Japan that you really notice how beautiful the anime is here. Japan is rendered in CGI (alas no hand drawn art) but oh boy is it exquisite. Clearly the woodblock artwork of Hokusai (The Great Wave 1829-1833) and similar works have influenced the overall design here with the skies and rolling countryside having intricate patterns woven into them. There are also numerous sequences (mainly one with both Harley and Joker) which appear to have been animated in watercolours (or the CGI equivalent), really diversifying and setting the artwork apart. Takashi Okazaki, the man behind [i]Afro Samurai[/i], was the character designer here and that is obvious if you know said anime franchise. I think all the characters looked great and were easily recognisable from their comic origins but I still can't help but think hand drawn animation would have looked better. However I did really like how Takashi incorporated genuine traditional ancient Japanese attire (both formal and battle wear) into the characters appearances. By that I mean it was indeed cool to see Batman in his own Batman styled samurai battle armour (which I'm sure many have seen fanart of before). Twas also neat to see Joker in period clothing making him look more like a jester, harlequin, or nobleman at times. Not all the characters looked as cool but basically the villains were in samurai styled armour where as the heroes were in more peasant/ninja styled battle attire; but everything had relevance. So yes overall it all looks very slick, very sharp, very colourful, and extremely well animated. So whilst I was kinda expecting something along the lines of 'Seven Samurai' or 'Yojimbo' with Batman roaming ancient Japan like a Ronin, handicapped without his technology and having to take down each villain one stage at a time in an old fashioned (yet admittedly videogame-esque) manner. What we actually get is a zany Batman adventure that jams almost every anime cliche/trope into the story resulting in a very Japanese feature which may or may not land with folks in the west. Did it land with me? Well in all honesty not really. I love the entire concept, I love the artwork, and I appreciate all the hard work involved. But alas I totally tuned out from the halfway point when things just go bonkers. I just wanted something more grounded and less...dare I say...traditionally anime with giant fighting robots. The finale was simply the most surreal tomfoolery I've seen for some time (I don't watch lots of anime). For true anime fans this may be normal and they may enjoy it but it wasn't for me. Just think [i]Transformers[/i], [i]Voltron[/i], [i]Gundam[/i], some steampunk, an army of monkeys, bats, and ninjas, and then throw the Batman universe into the mix and voila! Total insanity with lots of double crosses to boot. The question of how the characters even managed to build these giant robots in ancient Japan doesn't even come into it, there's no point questioning it. I would have liked to see more of the other villains too; the story does tend to focus more on Joker and Harley. I don't wanna say style over substance because that wouldn't be totally correct and kinda mean; but there is definitely an element of that at play here. There is substance and there's tonnes of style, but admittedly its all spread over a wafer thin plot. And at the end of the day you can't really get around the fact this was (probably) only done because it simply looked and sounded cool. Batman in Batman samurai armour in feudal Japan? Yes please! (we'll worry about the story later). Its not really a movie but more like a fanboy project made for fanboys which plays out like a long sequence of idolised fanboy ideas loosely strung together. It will work for some and not for others.
Phil Hubbs
Super Reviewer
Batman Ninja Quotes
There are no approved quotes yet for this movie.