Batman Vs. Robin
(2015)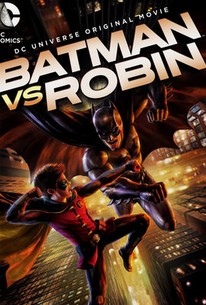 Movie Info
Batman and the new Robin, his son Damian Wayne, clash over different codes of morality while protecting Gotham from villains.
Critic Reviews for Batman Vs. Robin
Audience Reviews for Batman Vs. Robin
Never been a animated superhero movie fan but my kids are at that age when everything Marvel and DC is awesome to them so I put this on as it sounded pretty interesting, And in ways I was right I really enjoyed the story and the action scenes were done very well, The last 20 minutes was very good and all kids will love it, The title is abit misleading as Batman & Robin aren't really enemies they have a fight once but the story is more deeper than Robin turns bad, There's a few swear words and some of the fight scenes get abit bloody just incase you don't like to expose your kids to anything like that, It's short but sweet and will please hardcore DC fans just as much as it will please the kids.
Jamie Clarke
Super Reviewer
in line with under the red hood, this is brilliant and would suit a grand film adaption. these DC animation films are leagues in front of any other adaptions. I couldn't believe how good the story was here, truely epic.
Brendan O'Connor
Super Reviewer
Batman VS Robin suffers from one of the most severe cases of the Law of Diminishing Ninjas I've seen since the Buffy the Vampire Slayer series finale. The film also (unsurprisingly) contains very little Batman versing Robin, and Batman also describes the odour of a ripoff Scarecrow gas that is then later said to be "odourless". But it's better than all but one of the past couple of entries into the DC Animated Film franchise, and has a wickedly creepy opening sequence. It's just a shame they couldn't keep it together for this whole Court of Owls re-imagining.
Batman Vs. Robin Quotes
There are no approved quotes yet for this movie.