Batman: Year One
(2011)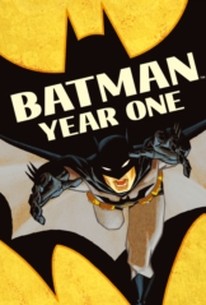 Movie Info
When Gotham City is in desperate need of heroes, two men take a stand for justicebut on opposite sides. Bruce Wayne returns home after years abroad to become a crimefighter, just as honest cop Lt. James Gordon moves to Gotham and finds corruption at every level. When Bruce becomes the masked vigilante Batman, the city explodes as his new nemesis Catwoman, the mob and Gordon all close in! Don't miss this thrilling DC Universe Animated Original Movie based on the groundbreaking story by Frank Miller and featuring two-time Emmy (R) Award winner Bryan Cranston, Ben McKenzie, Katee Sackhoff, Eliza Dushku and Alex Rocco in its stellar voice cast. Experience a bold and dynamic vision of the Dark Knight's first year in action and the start of his enduring friendship with Jim Gordon.

Critic Reviews for Batman: Year One
Audience Reviews for Batman: Year One
½
DC Comics continues to be enthralling in its animated adaptations and Batman: Year One is no different. Displaying crisp animation and gripping sequences, this graphic-novel adaptation offers a remarkable vision of Frank Miller & David Mazzucchelli's take on the famed vigilante. 4.5/5
Eugene Bernabe
Super Reviewer
Gotham: Jim Gordon Jim Gordon Rises
UUd Irawan Yudha Ariyanto
Super Reviewer
Batman: Ladies, gentlemen, you've eaten well. You've eaten Gotham's wealth. Its spirit. But your feast is nearly over. From this moment on, none of you are safe.  "A merciless crime- turns a man into an outlaw." Batman: Year One is the sort of animated superhero movie I enjoy. It's not a movie that is made for little kids, but for adults. The film is gritty, dark, and surprisingly real; obviously taking the Christopher Nolan theme of darkness and helplessness. This is a movie that was made for the Batman fans out there and as it is, it's a wonderful addition to the Batman filmography. Sure it has its problems and I didn't fall in love with it like I had hoped, but it is still a great addition.  This follows, well you guessed it, the first year of Batman. In the beginning we see Bruce Wayne returning home to Gotham after being away for twelve years. We also see Lieutenant Gordon arriving at his new job, as a Gotham police officer. Gotham is ruins fundamentally. The streets are filled with criminals and the police are as corrupt as our government. It takes awhile for Wayne to get ready to fight the criminals and the police. When he does, the police go after him because they are losing money as the criminals do as Batman cleans up the streets. The story has a great, gritty feel to it, but it also feels rushed. The movie was way too short in my opinion. I would have loved an additional 20 to 30 minutes of this, but as is, it's a good, if short, film. The movie respects the source material, looks good enough, and has a variety of scenes that make it worth a look. We also see how Catwoman starts and there's some nice adult humor thrown in as well. Like I said, this isn't really a movie for the little ones who love Batman, but for the older ones who love Batman. 
Melvin White
Super Reviewer
Batman: Year One Quotes
There are no approved quotes yet for this movie.