Bats
(1999)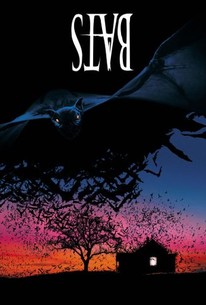 Movie Info
When the small Texas town of Gallup experiences a series of inexplicable bat attacks on local residence, the government calls upon eminent wildlife Zoologist Dr. Sheila Casper to investigate. Although usually a harmless and rather gentle animal, swarms of bats have suddenly become vicious, making Gallup a very dangerous place after the sun goes down. Sheila teams up with town sheriff Emmett Kimsey to discover why these nocturnal mammals have changed their behavior. As the attacks escalate, Sheila and Kimsey must locate and destroy the swarm's cave before the killing spreads.
Audience Reviews for Bats
Bats is a cliched, overdone genre film about deadly bats. The concept is old, tired and ultimately boring. The films plot is derivative of every other nature gone wild horror flick.Bats could have been something good, but it ultimately failed in delivering anything good to the screen. The film in originality, not providing us with interesting characters or story line. This film could have been good, instead it took liberties from other genre films, and it just became a big cliche riddled film. The payoff of the film is weak, and overall this is a lazy effort. The acting is sloppy, and is complemented by a very poor script. Bats is an example of a film that has had the misfortune of being in a genre of horror film that really is not interesting anymore. I mean, the nature gone wild genre has covered so much ground in the last three decades. Starting with Jaws, to Grizzlyu with Piranha, Alligator and Arachnophobia and culminating with Lake Placid. There has been other killer creature films since, but what separates this film from the newer films are that these films such as Rogue used cliched ideas in a refreshing way and had a good, well constructed script that used suspense and terror effectively well to tell its story However Bats doesn't do that. Bats uses cliches with a bad script, and it doesn't work. Stick with Jaws, Grizzly and the more recent Rogue. Bats just doesn't cut it, and it suffers from being a bad B movie that is more hilariously bad than scary. As a bad film, this one works, as a horror flick, it doesn't.
I wanted to see "Bats" as soon as I saw the previews over a year ago and I finally got to see it awhile ago. It wasn't anything like what I thought it would be. I was expecting it to be a good horror movie with great special effects. "Bats" turned out to be the worst horror movie I've seen in a long time. A new breed of bat that was created by a man is terrorizing a small town in Texas. The bats kill everybody they see, so it's up to a wildlife zoologist (Dina Meyer) and a sheriff (Lou Diamond Phillips) to try and get rid of the bats before it's too late. "Bats" might have had better success a few years ago, but with the great horror movies that have been made lately, "Bats" just can't stand up to them. Sometimes the camera in the movie just goes in circles to where you can't see anything. There's not much plot to the movie other than to get rid of the bats. Finally, "Bats" was made in 1999. It's pretty bad when a movie made in the late 90's doesn't even have good special effects. The only thing that I did like about the movie was that the bats looked pretty cool. Some people might like "Bats," but for me, it just wasn't what I was expecting it to be. Therefore, unless you really really want to see it, I wouldn't recommend watching it. NOTE: That was my Amazon review from the year 2000. Bigtime disappointment movie for me.
Jason Owens
Super Reviewer
½
Amazing non-stop high-flying, action-packed scream ride, so frightfully good fun.
Dean McKenna
Super Reviewer
Bats Quotes
There are no approved quotes yet for this movie.