Battle for Haditha
(2007)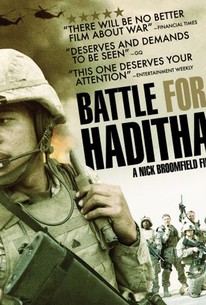 TOMATOMETER
AUDIENCE SCORE
Critic Consensus: This narrative retelling of the real life tragedy in Haditha is gripping and immediate but may sacrifice the subtleties of history for dramatic impact.
Battle for Haditha Photos
Movie Info
The fate of two cultures becomes locked on a tragic collision course in director Nick Broomfield's dramatization of the events that led to the massacre of 24 Iraqi men, women, and children by American Marines. A squadron of American soldiers goes speeding across the Iraqi desert in a convoy of armored Humvees, eventually stopping at a local store where the soldiers jump out to stretch and browse the DVD selection. Meanwhile, as the Marines strike up a conversation with the young male clerk behind the counter, two Iraqi men climb into the back of a pick-up truck to get a crash course in IED mechanics. Both the Marines and the Iraqis are simply going about their daily business as usual, just doing their best to survive in a land where war is just another fact of life. For the Marines it's all about patrolling the desert and waiting for the next bomb to go off. When a roadside IED kills one Marine and wounds two others, the vengeance with which the American soldiers strike back at the locals may cause even the most hard-line warhawks to take pause and consider the true cost of a war which has no end in sight.
Critic Reviews for Battle for Haditha
Audience Reviews for Battle for Haditha
½
This film apparently pissed off every Marine out there. Any movie that inspires THAT much emotion is noteworthy....but this is a gut wrenching film! This movie did a good job of showing all sides of this tragic circumstance, in my opinion. I felt horrible for everyone involved...and I was left sickened to the core.
Cynthia S.
Super Reviewer
A modern warfare movie about a terrible massacre of Iragi people. Nick Broomfield is better known for his documents then movies. "Battle for Haditha" has a documentary feeling, focusing on the Marines as well as the Iraqi insurgents and locals. Based on a true story where 24 innocent local Iraqs were killed, "Haditha" portrays well the madness of today. Innocent people suffer because of war. It feels realistic and it is not a joy to watch it. If you think of it as a normal war movie, "Haditha" doesn't stand out. It's slowpaced but because of its story, people interested about the Irag war should see it.
Believably brutal study of a military engagement gone horrifically wrong. Did make me wonder how often this must happen and it is simply covered up.
Gordon Anderson
Super Reviewer
Battle for Haditha Quotes
There are no approved quotes yet for this movie.