Battle For Terra
(2009)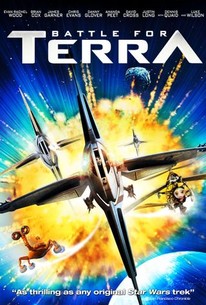 TOMATOMETER
AUDIENCE SCORE
Critic Consensus: Despite its earnest aspirations to be a thought-provoking sci-fi alternative, Battle for Terra lacks both a cohesive story and polished visuals, and fails to resonate.
Movie Info
When the peaceful inhabitants of the planet Terra come under attack from humans in search of a new home, the friendship between a human pilot and an alien girl may hold the key to saving both races. Mala (Evan Rachel Wood) is an alien girl living on the planet Terra. The Terrians are gentle race of extraterrestrials that have no need for war, and harbor a deep respect for nature. When Earth's natural resources began to dwindle, the human race established colonies on Venus and Mars. Although that solution worked temporarily, tragedy struck when the colonies on Venus and Mars attempted to declare independence from Earth, and all three planets were destroyed in the ensuing war. Now, humankind's only hope for survival is to reach Terra. The few remaining humans have developed a machine that will make Terra habitable for them yet poisonous for Terrians, and while the human council is dedicated to finding a peaceful means of coexisting with the Terrians, the villainous General Hemmer (Brian Cox) is fast losing patience. When heroic human fighter pilot Lt. Jim Stanton (Luke Wilson) crash-lands on Terra while chasing Mala into uncharted territory, the empathetic alien girl saves his life, and an interspecies friendship is forged. But time is running out for both the humans and the Terrians, and when General Hemmer stages a military coup d'état, the stage is set for a battle that threatens to destroy both species. ~ Jason Buchanan, Rovi
News & Interviews for Battle For Terra
Critic Reviews for Battle For Terra
Audience Reviews for Battle For Terra
Wow, talk about derivative! This film borrows heavily from just about every space film ever made - from Avatar to Star Wars, while telling its tired cautionary tale of bad, greedy humans putting themselves first and foremost; regardless of the cost. It is so obvious in its message and ham handed in its delivery that it makes the inventive "alien" race and their "fantastic planet" (see, here's a couple of sci fi film titles thrown in just for the fun of it), easy to overlook, which is unfortunate, for, without the sociological preaching and some dumbed down for children aspects, there could have been a decent film here. The fact that the film races through its explanation of human history as if even the filmmakers were tired of the message, should tell you all you need to know. In a nutshell, we are at first introduced to the planet Terra and her environs, kinda tadpole looking creatures capable of floating on the planet's atmosphere. Some nicely done animation shows the denizens going through their daily lives - but then trouble starts as the film focuses on two citizens, a boy and a girl who race around in DaVinciesque flying craft and attempt jaunty banter that comes off as a banal attempt at making these characters identifiable to the kiddies in the audience. This is just the first in a series of missteps, as the film is simply too earnest for its own good -everything is so black and white that even the eventual payoff where a human must chose between his own people and showing signs of humanity (think Avatar in a big way), lacks emotional punch. There is a nice bit of irony when the Humans first appear for the Terrans think their nifty spacecraft are gods, so run in front of them pleading "take me, take me"; I just wish the film had more ironic moments like this in its short run time, for too often it squanders its inventiveness by resorting to cliché and lame solutions to the problems presented to both Terran and Human alike. And speaking of cliché... in the final, balls to the walls battle sequence (again so reminiscent of Avatar), the pilots of the flying crafts on both sides utter just about every line from the Star Wars battle scene - all the "cover me, I'm going in", "I can't shake him", "I've got your 6", etc ad nauseum is all there in embarrassing excess, while the battle itself is simple a jumble, lacking the scope and yet singular focus of the first Star Wars film that this is so obviously mimicking. I'm amazed at the voice talent hired to do this overtly obvious bit of sociological commentary - makes me think that the film was pitched to the talent as a "teach the youngsters about the sins of their fathers" kind of BS. I suppose the kiddies need to learn this lesson, so I'm going to shrug and not condemn this film completely for perhaps it had its heart in the right place, but it's really about as thought provoking as an episode of Gilligan's Island (unless you spend your days wondering why Tina Louise was wearing an evening dress for a 3 hour boat tour - and... ahem, how to get inside that dress... I know I did! LOL).
paul sandberg
Super Reviewer
½
Aristomenis Tsirbas' Battle for Terra is an enjoyable animation with pieces for kids and adults alike.
The beginning is sweet and cuddly as the adorable alien creatures of Terra get their introduction; however, what lies beneath is a solid, although simplified, science fiction story. This film is a brief watch, as it doesn't even reach 80 minutes, but it isn't all fun and games. There is a consistent serious tone throughout and this is what caters to the more mature audience.
The visuals are above average while the human characters end up as the weakest part of the production. The action is also limited, but the final battle sequence is worth noting for both the CG animations and cinematography.
Despite some recognizable names, the casting isn't extraordinary, but it is acceptable. Evan Rachel Wood is the only one that stands out and is probably the most memorable.
Simply put, like the story and dialogue, Battle for Terra isn't a masterpiece; nonetheless, it is one to recommend for a viewing.
Battle For Terra just barely squeaks by thanks to its appropriate length, good pacing, and moderate entertainment level that will keep average viewers engaged, but it could have been so much more. The visuals are mediocre and lack polish like many have said (seemed to me like they lacked texture) and the story wants to be something extraordinary, but settles for a rushed and too tidy ending that doesn't do its ideas justice. It has some good ideas packed into its running length and the action, although pretty ordinary, at least keeps things from getting boring. It's a decent movie, but lower your expectations accordingly.
Josh Lewis
Super Reviewer
Battle For Terra Quotes
There are no approved quotes yet for this movie.