Hell on Heels: The Battle of Mary Kay
(2002)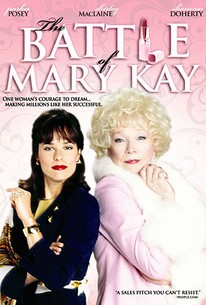 AUDIENCE SCORE
Critic Consensus: No consensus yet.
Movie Info
In this broadly satirical TV biopic, Shirley MacLaine pulls out all the stops as legendary cosmetics queen Mary Kay Ash. In Citizen Kane fashion, Mary Kay relates her rise to the top of the home-beauty industry to an inquiring reporter (Rachel Crawford), never allowing an opportunity pass to emphasize how many doors she has opened for the working women of America. Ultimately, however, Mary Kay's predominance is threatened by a much younger (and shriller) rival, Jinger Heath (Parker Posey), whose BeautiControl company takes an enormous bite out of Mary Kay's share of the market. Caught in the middle is a slightly off-center beauty named Lexi Wilcox (Shannen Doherty). Hell on Heels: The Battle of Mary Kay originally aired on October 6, 2002.
Critic Reviews for Hell on Heels: The Battle of Mary Kay
All Critics (2) | Top Critics (1) | Fresh (2) | Rotten (0)
... Shirley MacLaine, Parker Posey, and Shannen Doherty enjoy themselves shamelessly in this catty account of a corporate war between competing cosmetics companies.
It runs like a beauty pageant from top to bottom and Parker Posey plays a rival makeup lady. I'll watch anything with Parker Posey in it.
Audience Reviews for Hell on Heels: The Battle of Mary Kay
I expected a fun, campy-type film with such talents as MacLaine and Posey, but this movie was so campy that it became cheesy. Not a good cheese, like brie or gouda, but more like a processed cheese. Although some of you may think I'm talking about the portrayal of the beauty consultants (like the one portrayed by Doherty), having been around them, I can tell you that is one thing in this film that is, sadly, realistic. This bumble bee couldn't get off the ground.
nefnie lee
Super Reviewer
Hell on Heels: The Battle of Mary Kay Quotes
There are no approved quotes yet for this movie.